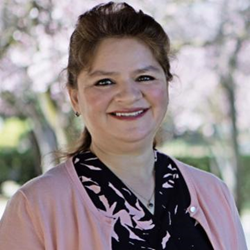 Every time I see a child, I see an opportunity to make a difference and help them reach their unbounded potential.
Saratoga, Calif (PRWEB) April 20, 2016
Stratford School, an award-winning independent preschool through 8th grade private school founded in Silicon Valley, announces Amina Saiyed as the new Principal of Preschool through Kindergarten for its Pleasanton campus.
Since 2011, Saiyed has worked at various Stratford locations as a vice principal, elementary teacher, and preschool science specialist. She holds degrees from U.C. Santa Cruz in early childhood education and NED University in civil engineering.
An engineer herself, Saiyed has deep experience in STEAM-based (science, technology, engineering, arts and math) education methods for preschool through elementary school aged students. To her, STEAM is about teaching children more than just information. It's about having learning experiences that teach critical thinking, problem solving, creativity, and innovation skills. Saiyed firmly believes learning these skills at an early age prepares children for success in 21st century careers.
According to Saiyed, "The passion that drives me is a quote from Louis Pasteur, 'When I approach a child, he inspires in me two sentiments; tenderness for what he is, and respect for what he may become.' That has been my guiding force. Every time I see a child, I see an opportunity to make a difference and help them reach their unbounded potential. These opportunities truly inspire me."
Saiyed's philosophy of teaching starts with the environment. "A good teacher does not attempt to teach. He or she creates an environment that is conducive to learning. A warm, secure, and nurturing environment is a pre-requisite to teaching. A lot of thought must be given to not only the physical set up of the classroom but also to the curriculum that will be taught. Materials, ideas, activities, and the curriculum should be age appropriate, engaging and challenging for the students." This positive school environment is exactly what Saiyed found when she joined Stratford School five years ago.
"We are delighted to share Ms. Saiyed's appointment as Principal of our Preschool through Kindergarten program. She exemplifies the leadership qualities we cherish in our Stratford staff: leading from the heart with warmth and intelligence and a never-ending belief in each child's potential. We are honored to have such a passionate and wise leader for our early childhood program at Pleasanton," said Barbara Timm-Brock, Chief Operating Officer, Stratford School.
The public can meet Saiyed at the following events:

1st Wednesday Street Party on May 4 in downtown Pleasanton at the Stratford School booth
May STEAM Open House on May 14 from 1:00 p.m. – 3:00 p.m. at Stratford's Pleasanton Campus located at 4576 Willow Road, just off I-580
About Stratford School
Established in 1999, Stratford School is a leading independent private school founded on the belief that education is a significant influence in the life of a child. Stratford offers an accelerated curriculum from preschool through eighth grade with an emphasis in the areas of STEAM (Science, Technology, Engineering, Arts, and Mathematics) that incorporates music, physical education, foreign language, and social skills development. Stratford's goal is to prepare and mentor students for admission to competitive high schools and colleges. All students are provided the necessary tools to excel, and are encouraged to participate actively in leadership, community service, and extracurricular activities. Visit http://www.stratfordschools.com for more information.