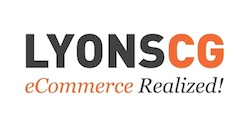 Certification provides assurance to our customers that our Application Support team is ready for whatever challenges they face
Chicago, IL (PRWEB) April 21, 2016
Lyons Consulting Group (LYONSCG), the industry's premier eCommerce digital agency, announced today that it has received the Demandware Commerce Cloud Support Certification endorsing LYONSCG's capabilities in supporting the Demandware application. The certification validates that LYONSCG has invested in the staffing, certifications, training and processes necessary to provide turnkey support for its clients running the Demandware Commerce Cloud. LYONSCG becomes the first digital agency to meet all of the criteria necessary to achieve the Support Certification.
"To support our mission of helping our customers realize their full eCommerce potential, we know that we need to do more than just design and implement their Demandware-based websites," says Richard Lyons, CEO and President of LYONSCG. "The Support Certification from Demandware validates the holistic capabilities we bring to our clients, supporting them throughout their eCommerce lifecycle."
To achieve certification under the program, LYONSCG project managers, application coordinators and technical teams were required to undergo specialized Demandware support training and pass a comprehensive support certification exam. In addition, the firm's processes and capabilities were fully vetted under Demandware's evaluation process to validate LYONSCG's full support capabilities.
"We are happy to be the first firm to receive Demandware's Support Certification," states Norman Alesi, COO & CFO of LYONSCG. "Our support staff, capabilities and services are extensive, as we have learned and grown together with dozens of support clients over the past 5 years. Our significant investments in the provision of global support services over this time has helped us to form partnerships with our clients focused on the success of their online marketplaces beyond the initial implementation and launch."
As part of the firm's application, LYONSCG was required to document its web-based incident tracking system, application monitoring processes, peak readiness testing program, operational procedures and checklists, case flow documentation, and SLA practices. The firm also provided complete listings of certified development staff together with current client lists.
"The Support Certification process for Demandware is a difficult, arduous process for even the most experienced Demandware team," explained Tony LaRusso, Director of Application Support for LYONSCG. "However, the difficult nature of certification provides assurance to our customers that our application support team is ready for whatever challenges they face."
Earlier this month LYONSCG was named Demandware 2016 Global Sales Partner of the Year.
About Lyons Consulting Group (http://www.lyonscg.com)
Lyons Consulting Group (LYONSCG) is the industry's premier eCommerce digital agency, serving brands, retailers, and B2B organizations with tailored solutions that maximize their online potential. Headquartered in Chicago with offices around the world, the firm offers a full range of digital strategy, digital marketing, application hosting and support, experience design and eCommerce implementation services for the Demandware, SAP Hybris and Magento platforms.
LYONSCG is the recipient of the Demandware Delivery Partner of the Year, Magento Partner Excellence and Magento Innovator of the Year awards. LYONSCG's approach is holistic—we provide every client with a creative, robust and increasingly profitable eCommerce website. LYONSCG is eCommerce Realized!