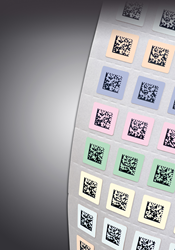 The new Polyonics flame retardant label materials help prevent the propagation of fire plus, with their vibrant colors, provide concise long distance product identification.
Westmoreland, NH (PRWEB) May 03, 2016
Polyonics, the leader in high temperature and harsh environment label materials, has added new polyimide colors to its flame retardant product line. The new polyimide colors expand the current white polyimide and polyester (PET) materials with semi-gloss and matte blue and yellow as well as semi-gloss green, violet and pink. The materials are used in a wide range of high and low temperature applications where manufacturers need to track and/or identify their products while also preventing the propagation of fire.
FlameGard Technology
Polyonics continues to set the standard for flame retardant label materials with FlameGard™ technology. The technology is used in the formulation of the flame retardant PSAs and top coats. The technology combines chemical and physical mechanisms that help control heat, oxygen and the generation of flammable gases allowing the label materials to prevent the propagation of fire. The top coats also provide superior ink reception.
Recognized, Tested and Approved
The full line of Polyonics flame retardant color labels are UL94 VTM0 recognized (file #E338081) and tested to the FAR 25.853 and BSS 7238/7239 aerospace flammability, smoke and toxicity standards. The other materials in the flame retardant label product line are either fully recognized by or tested to UL94. Polyonics also offers label materials tested to the FMVSS 302 burn test for automotive interior and/or under-the-hood applications.
Polyonics offers the most durable flame retardant label materials for the harshest applications. They are used throughout the automotive, electronics and aerospace industries on applications ranging from electronics, avionics and batteries to power supplies, safety warnings and instructional notifications.