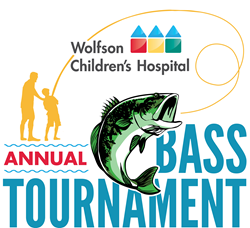 Jacksonville, Florida (PRWEB) April 23, 2016
Competitive bass fishermen and casual anglers alike will compete on Saturday, May 21, 2016, at the 27th Annual Wolfson Children's Hospital Bass Tournament. What has grown into the state's largest bass fishing tournaments takes place each year in Palatka, Florida, the "Bass Capital of the World," to benefit patients of Wolfson Children's Hospital.
The tournament draws an exciting range of anglers, from novice to professional, and it has grown every year, thanks to generous sponsors and participants who contributed $300,000 to Wolfson Children's Hospital last year and more than $2.5 million total. Last year's tournament drew 614 registered boats, 1,200 fishermen, and more than a hundred volunteers and supporters who enjoy the tournament and four days of activities associated with it.
"The Bass Tournament Committee just had its final meeting in preparation for this year's event, and energy and excitement are on an all-time high," said Tournament Chairman Brian Seay of Miller Electric in Jacksonville. "I'm so thankful to be part of such a worthy cause. How blessed we are to have such a great resource as Wolfson Children's Hospital in our community. The tournament is just a small way to be part of something big, and to be able to pay it forward."
Registration is now open, and will be accepted until safe light launch on tournament day. Cost is $100 per boat, including "Big Bass." Prior to the main event on May 21, the Annual Lads and Lasses Bass Tournament will be held on Thursday, May 19, 2016, and the Annual VIP and Friends Bass Tournament will be held on Friday, May 20, 2016, from safe light until 3 pm. Entry fee is $80 per boat; entry forms are available online.
A drawing will be held on Saturday, May 21 2016, at the tournament's final weigh-in event for a fully rigged 2016 Bullet 21XRS Bass Boat with Boatmate Trailer and Mercury 225 Pro XS OptiMax Motor valued at over $56,000.
For full details and to register for all tournaments, as well as to enter the bass boat drawing and view photos and a list of last year's winners, please visit wolfsonbasstournament.com.
Generous donors and community fundraising events like the Bass Tournament are what give Wolfson Children's Hospital the ability to continue our not-for-profit mission to provide outstanding care to every child who needs our help. For other ways to support Wolfson Children's Hospital, please visit wolfsonchildrens.org/waystogive.
###