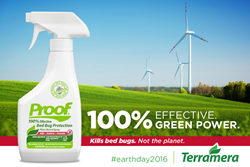 Committing to renewable energy is the latest step in Terramera's sustainability journey,
Vancouver, British Columbia (PRWEB) April 22, 2016
Terramera, Inc. has partnered with leading green energy provider Bullfrog Power to choose 100% green sustainable electricity for all office and laboratory operations. In addition to being one of the world's largest suppliers of organic Neem Oil, Terramera is a sustainable green chemistry pioneer developing highly effective products and technologies to protect plants, people and our planet. Terramera's Proof 100% Effective Bed Bug Protection was developed as an alternative to conventional synthetic pesticides. It is the first and only EPA-registered biopesticide that is based on Cold-Pressed Neem Oil.
This partnership represents a major milestone for Terramera in the on-going pursuit of a product line-up that reflects excellence, sustainability and science. Based in Canada, Terramera turned to Bullfrog Power to offset emissions resulting from electrical consumption. Bullfrog's sustainable sources, including Wind Power Generators put 100% clean pollution-free electricity into the power grid on Terramera's behalf. This action along with those of thousands of other Bullfrog customers greens the entire power grid – a benefit shared by all power users.
"Committing to renewable energy is the latest step in Terramera's sustainability journey," said Terramera CEO Karn Manhas, "As an emerging Cleantech and Sustainable AgTech company, we're proud to be the first company in our space to choose 100% green electricity and set a new standard in our category. Our retailers and customers expect a lot from us. We believe in leading by example, and this is a reflection of our commitment to our ideals and vision for the future. We are very proud to be working with a partner as well-respected as Bullfrog Power to achieve our sustainability goals."
"Consumers have an expectation that companies need to address their environmental, and energy, impacts," said Josephine Coombe, Vice President, Sales and Marketing, Bullfrog Power. "By choosing green electricity, Terramera is doing more than reducing its own environmental impact-with Bullfrog Power, Terramera is also helping to support Bullfrog's community renewable energy projects from coast to coast."
Proof is available at The Home Depot and select Walmart stores in the United States.
**
About Terramera, Inc.: Terramera is a Clean Technology leader providing sustainable plant-based pest and disease control solutions for consumer, professional and agricultural markets. Proof is a plant-based spray that kills 100% of dust mites, bed bugs and eggs and is available at select Walmart locations and The Home Depot. You can learn more about Terramera at the following sites: http://www.bugproof.com | http://www.terramera.com | http://www.neem.com | http://www.cirkil.com
About Bullfrog Power: Bullfrog Power, Canada's leading green energy provider, offers renewable energy solutions to reduce environmental impact, support the development of green energy projects and help create a cleaner, healthier world. As a Certified B Corporation, Bullfrog Power meets higher standards of social and environmental performance, transparency, and accountability.
CONTACT TERRAMERA:
Glen Davidson
Manager Global Sales & Sustainability
604.343.4588
glen(at)terramera(dot)com