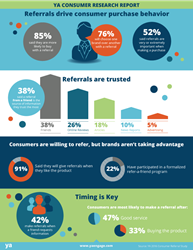 Minneapolis, MN (PRWEB) April 25, 2016
A recent study by YA, an industry market leader in delivering flawless omni-channel marketing promotions for the nation's most respected brands, reveals the power referrals have over consumer buying decisions.
In the March 2016 survey of more than 1,000 Americans, 85 percent of respondents said they are more likely to buy a product or service if it is recommended by someone they know, and 76 percent said a referral would cause them to choose one brand over another. In addition, the greatest percentage (38 percent) said that when researching products and services, a referral from a friend is the source of information they trust the most, ahead of online reviews, advertising or news reports.
"52 percent of consumers reported that referrals were very or extremely important when making a purchase. Clearly, Americans are most comfortable making a purchase when someone they know recommends the product or service," said YA President and CEO Chris Behrens. "Simply put, consumers trust and value the opinion of people they know."
Consumers are also very open to making referrals for products and services, with 91 percent of respondents indicating that they give referrals when they like the product. However, only one quarter (22 percent) of survey respondents say they have participated in a formalized refer-a-friend program.
Dedicated referral programs create a dialogue with consumers and enable brands to reward consumers for referrals and track the effectiveness of the program against business and marketing objectives.
"Consumers want and trust referrals. And, consumers are also very willing to provide referrals," said Behrens. "We are helping clients capitalize on the social sharing trend by creating refer-a-friend programs that offer an easy, structured, trackable way for consumers to make a referral and be rewarded for that action. It's a win for consumers and brands."
Those who make referrals can be rewarded with a prepaid or gift card, a discount off their next purchase, or even a free add-on service, such as extra mobile plan data or free movies with a subscription, thus providing an ongoing incentive to refer again and again.
According to the survey, 42 percent of respondents cited that they had made a referral when a friend requested information or expressed a need. Without a call to action, consumers are offering referrals when a friend seeks a recommendation. However, consumers are most likely to participate in a referral program after good service (47 percent) or after buying the product (33 percent) according to respondents.
"Timing is key," Behrens added. "Brands should look at their product life cycle and identify key steps in the customer journey to optimize when to ask and incent consumers for a referral. For example, immediately following a purchase or as an integrated part of a customer loyalty program."
About YA
For more than 40 years, YA has been a leader in the promotional marketing services space. We deliver flawless digital, social, mobile and traditional promotions, such as rebates/rewards, enter-to-win and loyalty programs for the nation's most respected brands. Our end-to-end management of 3,500+ promotions that reach tens of millions of consumers annually makes us experts at turning even first-time customers into loyal brand advocates. More information can be found on our company website: http://www.yaengage.com.