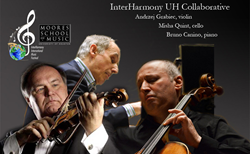 "Quint validates his confidence in his own art...a master of probing sentiment, shaded phrasing, and flawless technique" - Jerry Ben Asher, Metro West
Houston, Texas (PRWEB) April 25, 2016
The InterHarmony® International Music Festival is happy to announce its first collaboration with the University of Houston for two concerts, and will finally be able to bring highlights of its European and Carnegie programs to Texas turf. First, join us on April 29th for a trio concert featuring the Italian pianist and IIMF Guest Artist, Bruno Canino, Festival Founder Misha Quint (cello), and longtime IIMF and UH professor Andrzej Grabiec (violin). On April 30th, the same stellar ensemble presents Beethoven's Concerto for Violin, Cello, and Piano, Op.56 with the UH Moores School Symphony Orchestra, conducted by Franz Anton Krager. Tickets for the April 29 event are gratis and for April 30 event are $17 for general admission and $12 for seniors, and can be purchased at the University of Houston School Moores School of Music Website at http://www.uh.edu/class/music/events-performances
Every year, the InterHarmony® International Music Festival brings young performers to Europe to study with top-flight faculty and prestigious guest artists from around the globe. Now InterHarmony® is coming to Texas as a result of the vision of UH Professor of Conducting and Director of Orchestras, Franz Anton Krager, and IIMF Founder, cellist Misha Quint. Fresh from a run at Carnegie Hall, Misha Quint and Andrzej Grabiec join Italian pianist Bruno Canino, a figure of legendary stature in the contemporary European musical scene. Their first concert offers a stormy program of trios by Dvořák, Rachmaninoff and Shostakovich. One day later, they are joined by the UH Moores School Symphony Orchestra for a rare opportunity to hear Beethoven's virtuosic masterpiece, the Concerto for Violin, Cello, and Piano, Op.56. For more about InterHarmony International Music Festival, go to http://www.interharmony.com
Beethoven was sure that his Triple Concerto was "really something new": a concerto for piano trio. In it Beethoven achieves a rare degree of intimacy for an orchestral work, with more of the elegance of his chamber music than the fireworks of his symphonies.
Rachmaninoff's early Trio Élégiaque, no.1, by contrast, is a study in barely restrained yearning. The mood shifts fluidly between melancholy desperation and wistful nostalgia, trapped in a cycle of longing, returning again and again to those four bittersweet notes, like a prayer.
Dvořák's Piano Trio No.4 in e minor, Op.90, Dumky is a compact, but unforgettable musical odyssey. In this freely structured collection of six "dumky,", Ukrainian ballads and laments, the cello, violin and piano sing the songs of a small people torn between great empires.
Shostakovich's Piano Trio, No.2, Op.67 strikes a tragic tone. The year was 1944, the composer's good friend Ivan Sollertinsky had died and the country was nearing the end of hard war. Here, after the public bombast of his Leningrad symphony, was a private expression of doubt: anxiety for the future and sorrow for the past. Its premiere made a devastating impression – the audience wept openly and demanded encores. It was immediately banned. More information can be found here: http://www.interharmony.com/texas