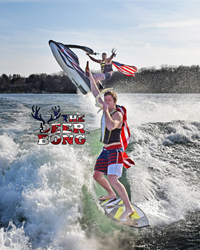 "We set out to re-invent the beer bong in a way that would appeal to the most patriotic of Americans," said Nice Distance LLC owner and CEO Christopher Weiland. "We believe The Deer Bong™ is the most American thing you can drink out of not only due to its
Wauconda, IL (PRWEB) April 26, 2016
Nice Distance LLC announces the start of a Kickstarter campaign for its new product The Deer Bong ™ today. The company aims to crowdsource $30,000 to launch product nationwide by August 2016. The antler-shaped drinking device seeks to "make beer bongs great again" and is utilized in a similar fashion to a standard beer bong funnel.
"We set out to re-invent the beer bong in a way that would appeal to the most patriotic of Americans," said Nice Distance LLC owner and CEO Christopher Weiland. "We believe The Deer Bong™ is the most American thing you can drink out of not only due to its unique and iconic antler design, but because each step of its manufacturing process is based domestically, here in the United States."
DETAILS OF PRODUCT DESIGN, HOW IT'S MADE
The Deer Bong™ Kickstarter campaign tentative timeline is as follows:
Kickstarter Campaign: April 19 – May 20
Mold Production: May 23 – July 18
Deer Bong Production Begins: July 20
Product Ships: August 1
Note: Timeline may change at anytime.
PRICING INFO
For more information, please visit The Deer Bong Kickstarter page http://kck.st/1SWWz5w, or follow The Deer Bong on Facebook and Instagram at @thedeerbong.
About Nice Distance LLC
Nice Distance LLC was founded by Christopher Weiland in January of 2016. Though a new company, the management team has extensive experience in product design and business ownership. Creating new innovative products is the sole mission of the company and to bring them to market in unique ways. For more information please visit TheDeerBong.com or email info(at)TheDeerBong(dot)com.