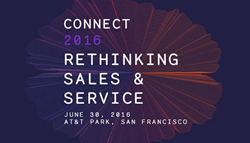 Harris will bring first-hand experience with regards to how companies can harness data and enable their teams to expand and become more profitable
London (PRWEB UK) 27 April 2016
NewVoiceMedia, a leading global provider of cloud technology that helps businesses sell more, serve better and grow faster, has announced the guest appearance of Salesforce Co-Founder Parker Harris at its inaugural conference, Connect, on June 30 at AT&T park in San Francisco.
Harris will join NewVoiceMedia board member and former vice chair of Salesforce, Frank van Veenendaal, in a fireside discussion during the Connect keynote. Together, Harris and van Veenendaal will examine the importance of people when building a multi-billion dollar business and provide anecdotes regarding the history of Salesforce and the importance of quality sales and service leaders. They will delve into the customer journey and explain critical shifts in the sales and service environment and what that means for future expanding businesses.
"Armed with powerful analytics, sales and service professionals will soon be able to dramatically augment the live customer interaction, whether via chat, email or voice", said Jonathan Gale, CEO of NewVoiceMedia. "Harris and van Veenendaal have first-hand experience with regards to how companies can harness data and enable their teams to expand and become more profitable".
About Connect:
Connect is designed to help attendees better understand how they can leverage data, technology and human behavior to sell more and serve better. With sponsors including Gainsight and MapAnything, the day-long event will include breakout sessions and special guests with targeted takeaways for sales and service professionals.
Speakers include
· Aaron Ross, Author and Sales Expert
· Alex Mead, Golfbreaks Chief Customer Officer
· Allison Fryhoff, Salesforce Foundation CRO
· Corrine Sklar, Bluewolf CMO
· Dana Killian, Eventbrite VP of Customer Experience
· Dan Steinman, Gainsight Chief Customer Officer
· Frank van Veenendaal, NewVoiceMedia Board Director and former Vice Chair of Salesforce
· Jonathan Gale, NewVoiceMedia CEO
· Kapil Venkatachalam, TCV Principal
· Kate Leggett, Principal Analyst for Forrester Research
· Matt Abrahams, Silicon Valley Business Coach and Organisational Behavior Expert
· Mike Walsh, Futurist and CEO of Tomorrow
· Nick Botter, Suitsupply Manager of Marketing Technology
· Parker Harris, Salesforce Co-Founder
· Rob Thomas, Adobe Solution Architect
· Simon Tam, Ritani CTO
· Tracy Elier, InsideView CMO
· Trish Bertuzzi, The Bridge Group President and Chief Strategist
· … and more to come.
Group discounts are available for those registering 3 or more persons. Follow event updates and conversations via #NVMConnect on Twitter.
Limited press passes available on request.
For more information about Connect 2016, visit http://www.newvoicemedia.com/connect/.
About NewVoiceMedia
NewVoiceMedia powers customer connections that transform businesses globally. The leading vendor's award-winning cloud customer contact platform revolutionises the way organisations connect with their customers worldwide, enabling them to deliver a personalised and unique customer service experience and drive a more effective sales and marketing team. With a true cloud environment and proven 99.999% platform availability, NewVoiceMedia ensures complete flexibility, scalability and reliability.
Spanning 128 countries and six continents, NewVoiceMedia's 500+ customers include PhotoBox, MobileIron, TNT, Lumesse, JustGiving, Canadian Cancer Society and Wowcher. For more information visit http://www.newvoicemedia.com or follow NewVoiceMedia on Twitter @NewVoiceMedia.