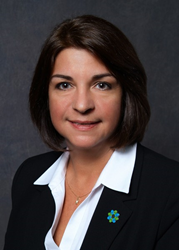 We are proud to add Stephanie to our experienced and knowledgeable team of financial experts at Penn Community Bank.
DOYLESTOWN, PA (PRWEB) April 27, 2016
Penn Community Bank, Bucks County's leading mutual financial organization, is pleased to announce that it has hired Stephanie A. Austin as its chief financial officer.
Austin is an experienced chief financial officer with an extensive background in bank accounting, project management, and audit and financial systems. She has worked for community banks, major financial institutions, and manufacturing corporations.
"We are proud to add Stephanie to our experienced and knowledgeable team of financial experts at Penn Community Bank," said bank President and CEO Jeane M. Coyle. "She is a great asset to our leadership team, and we look forward to working together to offer our local communities the financial products, services and advice they need throughout their lifetimes."
Austin previously served as chief financial officer and treasurer for Continental Bank Holdings, Inc. in Plymouth Meeting, Pennsylvania, where she established the finance department in the newly chartered bank and grew it to $700 million in assets over the course of nine years.
Prior to that, Austin served as the controller at Harleysville National Bank where she was responsible for the management of a team of professionals with overall responsibility for financial reporting to management, shareholders, SEC, and regulators for a $3 billion bank. She previously had served as the controller for Progress Financial Group, based in Blue Bell, Pennsylvania.
Austin earned a bachelor's degree in accounting with high honors from Bentley College in Waltham, Massachusetts. A Certified Internal Auditor, she lives in Pottstown, Pennsylvania.
About Penn Community Bank: Created in 2015 by the unification of long-standing community banks First Federal of Bucks County and First Savings Bank of Perkasie, PennCommunityBank.com holds more than $1.8 billion in assets and employs more than 300 people at 22 bank branches and two administrative centers throughout Bucks County. As an independent, mutual financial institution, Penn Community Bank is not publicly traded and operates with its long-term mission in mind: to help businesses grow and prosper, to support individuals and families throughout their lifetimes, to strengthen the local economy, and to partner with local organizations to act as a catalyst for positive growth in every market it serves.