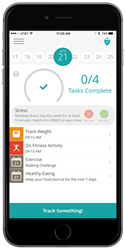 Lack of personalization and sustained engagement is a huge barrier to success with many health tracking apps. - Dr. Ashley Reynolds
League City, TX (PRWEB) April 27, 2016
"Lack of personalization and sustained engagement is a huge barrier to success with many health tracking apps. We have added a level of intelligence that works on its own, or with your health coach, to provide users with an interactive experience to promote, track and manage healthy behaviors" – says Ashley Reynolds, Ph.D., recognized digital health expert and Sensei's EVP of Operations.
The newly released digital coach, integrated into Sensei's existing customizable mobile application, assesses health risk, provides motivational support, individualized multimedia education, and goals for reducing risks. Why is this important? Poor health impacts every aspect of life, from workplace productivity and absenteeism, to financial wellbeing, to quality of life and overall happiness. Healthy, happy people are more engaged in all areas of life. For businesses, this means reduced healthcare costs and increased employee engagement via a digital solution deployed with minimal human intervention.
According to the National Business Group on Health, companies promoting a culture of health utilize technology to support workforce engagement more than those who do not. A more engaged workforce results in improvements in service, productivity, customer satisfaction, sales and profit.
Enhancements to the InTouch™ communication platform facilitate campaign retargeting to further refine and target recipients, based on unique identifiers (such a age, gender, enrollment status, or whether or not they opened a prior communication), thereby increasing the likelihood of completing a call to action. The InTouch™ platform improves engagement, providing secure, HIPAA compliant, communication with employees and members (via in-app messaging and banners, email and text) with built-in response monitoring.
The update, released this week, is one in a series of planned enhancements to the interactivity and intelligence of the Sensei mobile application and supporting web based administrative platform (providing communication management and analytics). Sensei provides HIPAA-secure, platform solutions to health systems, insurance providers and employers to promote engagement, utilization and health.
About Sensei
Sensei is a healthcare technology company providing patented, HIPAA-secure platform solutions for organizations seeking to improve member health, engagement & empowerment. With tools allowing customers to effectively communicate and reach nearly 100% of their population, to reduce strain on resources, control healthcare expenses and boost employee performance. Sensei has been bringing extensive experience in population health, mobility and information systems to improve programs in health, wellness, chronic illness and benefits since 2005. Sensei is headquartered in League City, TX. For further information about Sensei, LLC visit: http://sensei.com/