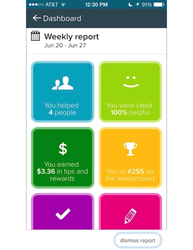 Using Oracle Service Cloud and Directly to get questions into the hands of on-demand experts helps us scale great support for our growing membership.
Las Vegas, NV (PRWEB) April 27, 2016
Directly, a Gold level member of Oracle PartnerNetwork (OPN), unveiled at the Modern Service Experience conference an integration that lets Oracle Service Cloud users build their own on-demand customer service networks to scale support and improve customer experiences. Directly for Oracle Service Cloud is also now available in the Oracle Cloud Marketplace, offering added value to Oracle Service Cloud customers.
Directly for Oracle Service Cloud can help customer service organizations provide next generation customer service experiences by matching customers who have questions with experts who are part of a flexible network of on-demand talent developed from the company's own user base and community.
The Oracle Service Cloud portfolio delivers a complete service experience across a wide range of modern contact center channels including web, phone, email, chat, social and the in-person field service interaction, all powered by the latest technology. Directly works within Oracle Service Cloud to intelligently route cross-channel questions to experts, who have the option of answering questions on demand and earning rewards for quick resolution. The powerful integration helps scale customer support, while improving customer experience.
Leading brands such as FreedomPop use Oracle Service Cloud and Directly together to deliver fast response times and high satisfaction ratings by intelligently routing customer service questions to their expert users – including top customers and partners – who earn rewards for quick resolution.
"Our FreedomPop experts are enthusiastic problem-solvers who answer questions at the speed of light. Using Oracle Service Cloud and Directly to get questions into the hands of on-demand experts helps us scale great support for our growing membership," said Robinson O'Brien-Bours, director of support at FreedomPop.
Customers using Directly.com are experiencing 4.5 minute average response times and engaging, authentic interactions that can drive 92.5 percent customer satisfaction ratings in a cost-efficient way across service channels.
The Oracle Cloud Marketplace is a one-stop shop for Oracle customers seeking trusted business applications and service providers offering unique business solutions, including ones that extend Oracle Cloud Applications. Oracle Cloud is the industry's broadest and most complete public cloud, delivering enterprise-grade services at every level of the cloud technology stack including software as a service (SaaS), platform as a service (PaaS), infrastructure as a service (IaaS), and data as a service (DaaS).
In addition, customer service executives can learn more at Directly's kiosk MSE-10 at Modern Service Experience, April 26 – 28 in Las Vegas.
###
About Directly
Directly makes on-demand business apps. Fast-growing companies like Pinterest, Airbnb and Republic Wireless use our customer service apps to scale support and improve customer experience. Expert users get a smart way to help others, share in the rewards and work on their own terms. Customers get expert help in minutes. Directly integrates with Zendesk, Oracle Service Cloud, Desk, Salesforce Service Cloud and other leading contact center software. To find out more visit http://www.directly.com.
About Oracle PartnerNetwork
Oracle PartnerNetwork (OPN) is Oracle's partner program that provides partners with a differentiated advantage to develop, sell and implement Oracle solutions. OPN offers resources to train and support specialized knowledge of Oracle's products and solutions and has evolved to recognize Oracle's growing product portfolio, partner base and business opportunity. Key to the latest enhancements to OPN is the ability for partners to be recognized and rewarded for their investment in Oracle Cloud. Partners engaging with Oracle will be able to differentiate their Oracle Cloud expertise and success with customers through the OPN Cloud program – an innovative program that complements existing OPN program levels with tiers of recognition and progressive benefits for partners working with Oracle Cloud. To find out more visit: http://www.oracle.com/partners.
Trademarks
Oracle and Java are registered trademarks of Oracle and/or its affiliates.