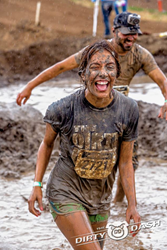 It's always fun to bring this amazing family event to new locations
Salt Lake City, UT (PRWEB) April 28, 2016
With two months before the first Dirty Dash, of 2016 almost 11,000 racers have already registered for the family-friendly mud-run. Race organizers anticipate more 30,000 mud-splattered participants to get dirty this year. The popular 5K, wholly owned by Sack Lunch Productions (OTC:SAKL), claims to be "the fun run for everyone" and brings all members of the community together regardless of age or athletic ability.
"This year we are really bringing the mud!" said Dirty Dash event director Ryan Creighton. "We have created the filthy obstacle course you always dreamed of as a child. It's not about the running, it's about creating memories with friends and family."
Participants in ten locations around the US will plunge into mud pits and tackle mud smeared obstacles during this popular 5K. 2016 marks the fifth anniversary for the Dirty Dash, yet organizers continue to add new locations.
"It's always fun to bring this amazing family event to new locations," said spokeswoman Amy Gessel. "We are can't wait to make our first appearance in Reno this October."
Online registration for all Dirty Dash events is already open. For more information about dates and locations visit http://www.thedirtydash.com. See what fans have to say on the Dirty Dash Facebook page https://www.facebook.com/TheDirtyDash.
About the Dirty Dash
Since 2010, filthy participants have sloshed through this fun run across the country. Participants climb over obstacles and wade through mud pits at this family-friendly event designed for participants of all ages and abilities. This year, The Dirty Dash debuts a new obstacle and more mud for thousands of smiling participants.