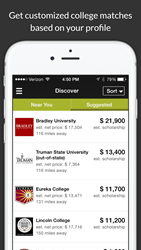 We're on a mission to reduce student loan debt, improve college access, and make the process of finding the right school simpler and more transparent
Iowa City, IA (PRWEB) April 29, 2016
College Raptor, creators of the only college search that discovers schools for students based on personalized scholarship estimates, announced today the release of a free app for iOS and Android devices, the College Scholarship Calculator.
This revolutionary app allows prospective college students to research and compare college options based on estimated financial aid awards--something never before possible through a mobile application.
Unlike scholarship search apps, the College Scholarship Calculator estimates the academic scholarships and need-based grants a student will receive from colleges and the government. These awards can exceed $40,000 per year and can dramatically reduce the cost of college for many students. For example, because of their generous financial aid programs, some of the country's most expensive schools like Harvard or Stanford may cost less than an in-state public university for 90% of the U.S. population.
"It's not just elite schools that provide huge scholarships and grants. Families typically only pay about half of a private college's sticker price, and scholarships are often available at public schools, too," said Bill Staib, CEO of College Raptor. "Many of today's students access the Internet almost exclusively through smartphones. With our app, they will better understand college costs to make more informed decisions."
The app expands on the functionality found on CollegeRaptor.com, the company's college discovery platform, which helps students and families identify colleges based on academic, cultural, and financial fit. Using the mobile application, students can search for specific colleges as well as automatically estimate their grant and scholarship eligibility at nearby colleges.
Powered by millions of proprietary data models, College Raptor is the only online tool that allows students to estimate their scholarship and grant eligibility at any four-year college in the U.S. in minutes. Not only does it save families the hundreds of hours it would otherwise take to compare costs, but students can quickly and easily discover colleges likely to offer them the best financial aid.
"We're on a mission to reduce student loan debt, improve college access, and make the process of finding the right school simpler and more transparent," said Staib. "This app is the next step on that mission."
The College Raptor Scholarship Calculator is now available for free in both the Apple iTunes and Google Play stores.
Download the app:
http://bit.ly/RaptorAppiOS (iOS)
http://bit.ly/RaptorAppAndroid (Android)
About College Raptor
College Raptor builds products to help prospective students, parents, high school counselors, and college enrollment managers resolve some of the biggest challenges related to college planning, financing and enrollment. Developed by successful tech entrepreneur William Staib, in collaboration with Dr. Richard Ferguson, who served as the CEO of ACT for 22 years, College Raptor is the only college search platform that allows users to estimate their individual "net" cost of attending every four-year college in the United States. As a result, students and their families discover quality college options they might never have considered because of a lack of awareness or financial concerns based on a college's sticker price.
For more information:
Tyler Hakes
Director of Marketing, College Raptor
tyler(at)collegeraptor.com
(319) 849-7101