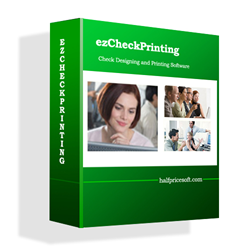 ezCheckprinting and virtual printer combo now accommodates QB, Quicken and Peachtree for a less expensive alternative in printing on blank check stock.
Houston, TX (PRWEB) May 03, 2016
Halfpricesoft.com developers are seeing increased purchases in the ezCheckPrinting check writing application. Businesses are realizing this program will give multiple options in printing checks. Some options are to use ezCheckprinting alone or in combination with Quicken, Quickbooks or Peachtree. With the latest April release, customers can now choose different software applications to print on blank check stock less expensively.
"ezCheckprinting and virtual printer combo accommodates QB, Quicken and Peachtree in various ways for printing on blank check stock," said Halfpricesoft.com founder Dr. Ge.
Customers will see the following features in the latest release:

Print checks and stubs on blank stock in one step from QuickBooks, Quicken or Peachtree desktop version, network version and online version
Print preprinted check with MICR encoding to fill in manually later
Print checks with logo, signature and extra labels.
Print check draft to collect fund via phone, fax and internet
Support multiple accounts with no extra charge
Additional features that are included in the application are:
Network and multi-user versions available at additional cost
Print checks on blank check stock or pre-printed checks in check-on-top, check-in-middle, or check-on-bottom formats
Add a company logo and other customizable design features for a professional, corporate look to company checks
No limit to the number of accounts that can be used
Write an unlimited number of checks
No internet connection needed
Stand alone software
Add a second signature line for peace of mind and security
Prints MICR characters accepted by most banks (for use with laser printers) — no need to order expensive checks pre-printed with bank information
Include signature image on checks to save time signing checks
Customizable report features that are easy to use
Save time by printing multiple checks with one click
Export and import of check data for use with ezTimeSheet, Excel file, QuickBooks, Microsoft Money, and other accounting software.
Never a cost for customer support in our products including email, live chat and team view options
Starting as low as $39 per installation for a single-user license key or $69 for the QuickBooks compatible version (ezCheckPrinting single user plus Virtual Printer), ezCheckPrinting makes professional looking checks and automated check writing.
To learn more about this check writer software, visit http://www.halfpricesoft.com/product_ezcheck.asp
About halfpricesoft.com
Halfpricesoft.com is a leading provider of small business software, including payroll software, accounting software. ACA 1095 software, employee attendance tracking software, check printing software, W2 and W2 Correction software, 1099 software, and ezACH deposit software. Today Software from halfpricesoft.com is trusted by thousands of users and help small business owners simplify their payroll processing and business management.