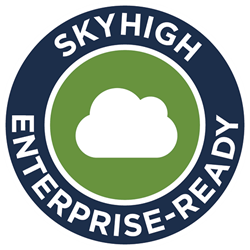 MxHero works hard to deserve our clients' trust and earning Skyhigh Enterprise-Ready is a an important milestone in that effort
San Francisco, CA (PRWEB) April 29, 2016
mxHero announced today that it has been awarded the Skyhigh CloudTrust™ rating of enterprise-ready for its Mail2Cloud service. Skyhigh Enterprise-Ready cloud services fully satisfy the most stringent requirements for data protection, identity verification, service security, business practices, and legal protection.
"mxHero is thrilled to be awarded the Skyhigh Enterprise-Ready badge for our Mail2Cloud email to cloud storage integration service. We work hard to deserve our clients' trust and this is an important milestone in that effort," states Alex Panagides, CEO, mxHero Inc.
Skyhigh identifies and classifies thousands of cloud services and provides an objective and detailed evaluation of the enterprise-readiness of each cloud service based on a detailed set of criteria developed in conjunction with the Cloud Security Alliance (CSA). The evaluation spans five categories:

Data attributes
User and device attributes
Service attributes
Business attributes
Legal attributes
"Companies seek enterprise-ready services such as mxHero, but vetting the capabilities and policies of a provider consumes a great deal of time and resources," said Kamal Shah, vice-president of products and marketing at Skyhigh Networks. "The Skyhigh CloudTrust RatingTM shortens the evaluation process from weeks to hours by offering an objective, holistic assessment of a service provider's security capabilities and enterprise readiness."
About mxHero
mxHero is a company dedicated to enhancing email for businesses and end user. mxHero's products and services gives companies, service providers and end users powerful new ways to control, use and analyze email. Apps developed for mxHero's platform work with any email management program, including Gmail and Microsoft Exchange. More than 13,000 companies with 1,000,000+ users have added mxHero to their email. To learn more about mxHero visit http://www.mxhero.com. Find mxHero on Twitter: @mxheronet and Facebook: mxHero.net
About the Skyhigh CloudTrust™ Rating
The Skyhigh CloudTrust™ Rating provides an objective and comprehensive evaluation of a service's security controls and enterprise readiness based on a detailed set of criteria developed in conjunction with the Cloud Security Alliance (CSA). Because Skyhigh produces the most extensive, current, and credible trust ratings for cloud services, enterprises rely on the Skyhigh CloudTrust™ Rating to inform both decisions and policy pertaining to the use of cloud services in their environment. For more information, visit http://www.skyhighnetworks.com/cloud-trust-program/or follow us on Twitter @skyhighnetworks, #CloudTrust.
###
mxHero Contact:
Name: Bruno Santos
Email: Bruno(at)mxHero(dot)com
Skyhigh Networks Contact:
Name: Katy Garlinghouse
Email: Katy(at)SkyhighNetworks(dot)com