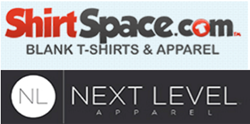 (PRWEB) May 02, 2016
ShirtSpace, known for their wide selection of quality customizable products, is excited to announce the arrival of Next Level Apparel products to their inventory.
Next Level Apparel, known for high-quality products and attractive price points, will now offer a wide selection of their best selling products to ShirtSpace customers. The now available Next Level Apparel products include short sleeve, long sleeve, and sleeveless options in many colors and styles. From tanks and raglans to performance and sweat apparel, ShirtSpace will offer Next Level Apparel for men, women, and children. With price points starting as low as $2.98 per item, the partnership ensures that consumers are getting the best deal possible.
"We are thrilled to be able to increase our product catalog while keeping our price point," said Marlin LeFever of ShirtSpace. "Next Level Apparel offers incredibly soft, wearable, and attractively priced products. Their dedication to their customers is quite similar to ours, and we know this is going to be an ideal partnership for both brands."
The assortment of 55 new styles will all be eligible for the everyday value the customers have come to expect from ShirtSpace. From the youth raglan tee, available in eight colors and incredibly soft, to the women's V-neck tee or ribbed tank, Next Level Apparel offers many different takes of current trends. Next Level Apparel's men's line offers long sleeve, short sleeve, and hoodie styles for every body shape. The Tri-blend long sleeve hoodie is lightweight and breezy and available in 12 colors.
All orders over $99 will continue to qualify for free shipping, and customers will still have a "no minimum" order on every item available.
Additionally, ShirtSpace is pleased to offer automatic savings to customers who sign up for an account with ShirtSpace. In order to create an account, customers should visit http://www.shirtspace.com and click "Register," found beneath the shopping cart icon in the upper right-hand corner of the website. From there, customers enter their name and mailing address to begin receiving additional discounts.
About ShirtSpace
ShirtSpace is an online retailer of blank wholesale apparel, including t-shirts, polo shirts, and sweatshirts; customers can choose from over 50 leading brands, including Gildan, Jerzees, and Fruit of the Loom. ShirtSpace offers competitively priced apparel for adults and children in various colors and styles, with no minimum order size required; ShirtSpace even allows customers to mix and match options without losing out on affordable pricing. To learn more about ShirtSpace, please visit http://www.shirtspace.com.
About Next Level Apparel
Next Level Apparel delivers the latest fashions with superb quality incorporating innovative fabrics that are heavenly soft at a value that is second to none. Our outstanding color palette, up to date styles, and fit continue to define us as one of the leading suppliers of fashion blanks in the US market. Our WRAP certified (Worldwide Responsible Accredited Production) factories are dedicated to ethical standards of conduct; we respect the rights of all individuals and care for the environment. In addition to being sweat shop free and child labor free, we take social responsibility to the next level in everything we do. Our continuing growth and recognition as a leading supplier of fashion blank tees is a testament to our hard work and dedication.