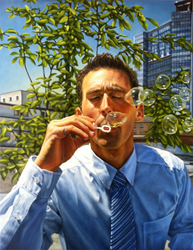 Leesburg, Va. (PRWEB) May 02, 2016
"Engineering Bubbles," an oil painting submitted by Canadian radiology resident Dr. Kari Lee Visscher, won top honors at the 2016 ARRS Art Forum held recently at the Annual Meeting in Los Angeles. The first annual art forum was a platform designed to promote original creative expression among ARRS members and Annual Meeting attendees.
"Through art I hope to educate people about radiology and its role in appropriately diagnosing and treating patients," said Dr. Visscher, a resident at the University of Western Ontario, London, Ontario. "Art is a relaxing form of expression that gives me an opportunity to paint my thoughts and be creative."
Dr. Visscher's winning painting depicts her husband, Brent Visscher, blowing bubbles at a wedding on a sunny day in Regina, Ontario. The title, "Engineering Bubbles," references Brent Visscher's profession as a civil engineer, noted by the iron ring on his small finger, a Canadian symbol of the vocation.
Before entering medical school, Dr. Visscher was a biomedical illustrator. She earned a BSc from Queen's University, Kingston, Ontario, and an MScBMC and MD from University of Toronto, Ontario. As the winner, she is entitled to one free ARRS online course.
"Engineering Bubbles," along with other submitted art, was on display throughout the Annual Meeting in the Connection Quad, the networking center where case studies and commercial exhibits were displayed. The 40 art entries illustrated a variety of subjects including landscapes, images of the heart, abstracts and a portrait of the singer Adele. The winner was selected based on votes cast by meeting attendees.
The ARRS 2016 Annual Meeting was held April 17-22, 2016 in Los Angeles.
_____________________________________________________________________________________
Founded in 1900, ARRS is the first and oldest radiology society in the United States, and is an international forum for progress in radiology. The Society's mission is to improve health through a community committed to advancing knowledge and skills in radiology. ARRS achieves its mission through an annual scientific and educational meeting, publication of the American Journal of Roentgenology (AJR) and InPractice magazine, topical symposia and webinars, and print and online educational materials. ARRS is located in Leesburg, VA.