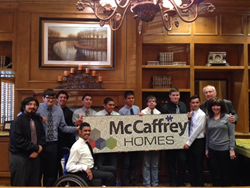 It's been an honor to get to know these exceptional students — and a privilege to contribute to the important work of the Social Skills Autism Class at Madera High School — Robert McCaffrey, CEO, McCaffrey Homes
FRESNO, Calif. (PRWEB) May 03, 2016
Students in the Madera (Calif.) High School Social Skills Autism Class recently presented McCaffrey Homes — an award-winning, third-generation local homebuilder based in Fresno, Calif. — with a mosaic crafted by the students to thank the builder for supporting their program.
The mosaic is a large, handmade representation of the McCaffrey Homes logo. It will be displayed in a new model home center being built by McCaffrey Homes at Riverstone, a master-planned community in southeast Madera County. The mosaic was a gift to thank McCaffrey Homes for their donation of $3,000 to the autism class.
"All of us at McCaffrey Homes are truly touched by the gift of this mosaic," said Robert McCaffrey, CEO of McCaffrey Homes.
"It's been an honor to get to know these exceptional students — and a privilege to contribute to the important work of the Social Skills program," McCaffrey added. "The hard work and dedication of the students and everyone involved made an indelible impression on us."
Lalo Sanchez, who teaches the Social Skills class, said, "The generous donation from McCaffrey Homes will support the Madera High School Social Skills Class in numerous ways. The funds have helped students rehabilitate an abandoned area on campus into a beautiful garden with paved walkways, a fountain, raised vegetable beds and seating areas.
"Through this garden, the students have learned valuable skills such as garden design, landscaping, sprinkler installation and mosaic design," Sanchez added. "This garden has truly been an outdoor classroom. The donation will also be used to award college scholarship funds to seniors in the Social Skills Class."
Janice Tognotti, whose son was among the first students to attend the class, has only great things to say about the program.
"This class was a life changer for my son," Tognotti said. "It taught him social skills that he uses to this day. It made him confident and gave him the assurance that he can succeed. It's a great program."
Sanchez explained the meaning of a puzzle piece that students included in the design of the mosaic.
"The puzzle piece is a symbol of Autism Awareness," Sanchez said. "It reminds us that each of us has a place, and that the world is incomplete without us. And it reminds us that people with autism — and their family and friends — are very important people too," Sanchez added.
Autism is a developmental disorder that affects one in 68 children, according to the Centers for Disease Control and Prevention (CDC). The prevalence of autism is increasing, and boys are nearly five times more likely than girls to have autism. To learn more about autism, visit https://www.autismspeaks.org/what-autism/facts-about-autism.
McCaffrey Homes, a local family homebuilder, is dedicated to building homes that last a lifetime while meeting the needs of homebuyers at every stage of life.
With three generations of experience, McCaffrey Homes has built more than 9,000 homes and has been honored nationally for the quality of its construction and service. In 2014, Robert and Karen McCaffrey were inducted into the Hall of Fame by the California Homebuilding Foundation, in recognition of their contribution to the homebuilding industry and their commitment to innovation, public service and philanthropy.
McCaffrey Homes is now building in three communities in the Fresno and Clovis, Calif., areas — The Gallery in Clovis, The Heights on Copper, Liberty Square — and the two upcoming neighborhoods at Riverstone, a new master-planned community in southeast Madera County. McCaffrey will also soon break ground at Tesoro Viejo, their own 1,600-acre master-planned community in Madera. For more information, visit http://www.mccaffreyhomes.com/.