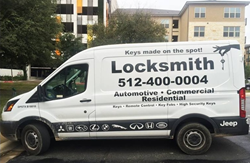 We have made the choice to invest into the new locksmith van in order to be able to offer mobile locksmith services that will meet every need of the residents of Austin. We need to be able to get on the job fast.
Austin, Texas (PRWEB) May 03, 2016
In recent years the demand for modernized and professionally equipped locksmith vans has been on the rise in the City of Austin. To keep up with the rising demand for mobile locksmith services Henry's Lock & Key has just purchased a new state of the art locksmith van.
Their new locksmith van has been specially designed for the lock and key business. It is equipped with high security locks, removable storage spaces, key cutting equipment and 1000's of blank keys. With an ergonomically designed work bench and transponder key programming equipment Henry's Lock & Key is now fully prepared to help residents in Austin with all of their mobile locksmith needs.
The new van will greatly impact the ease with which residents can receive timely help from Henry's Lock & Key. This includes a wide range of locksmith services; automotive lockouts, residential lockouts, key cutting services and transponder key programming.
Henry's Lock & Key is well known by Austin residents for keeping its locksmith services on the cutting edge with the latest tools, and certified personnel. This new van will make it easier for the residents of Austin Texas to access their professional locksmith services.
"We have made the choice to invest into the new locksmith van in order to be able to offer mobile locksmith services that will meet every need of the residents of Austin. We need to be able to get on the job fast. We have to have everything that we need on hand in order to effectively complete the job and to be able to provide a professional service. The new locksmith van is expected to save us time and money in the long run."
Henry's Lock & Key has been in business helping the City of Austin for nearly a decade. Its team of certified locksmiths provide a complete range of locksmith services to meet the needs of local residents. For more information they can be reached at their website. http://automotivelocksmithaustin.com