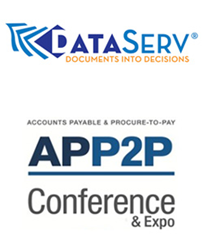 We always strive to keep our sessions educational, and this year will be no exception.
St. Louis, MO (PRWEB) May 03, 2016
DataServ, a global Software as a Service (SaaS) provider of document and process automation solutions, today announced that it has been selected to share its client experiences in an educational breakout session at the spring 2016 Accounts Payable and Procure-to-Pay (APP2P) Conference and Expo.
The APP2P conference, presented by the Institute of Finance and Management, will be held Monday, May 23rd – Wednesday, May 25th at Disney's Contemporary Resort in Orlando, FL. DataServ will conduct an educational session titled "Three Challenges, Two Companies, One Solution" on May 24th at 1:30pm Eastern in the Fantasia C room. The session will be moderated by DataServ CEO Jeff Haller and will feature speakers from two different Fortune 500 DataServ clients – a healthcare provider and a major distributor. These two companies had very different accounts payable (AP) challenges: one had a decentralized, manual and paper-intensive AP process impacted by a large merger; the other had already centralized invoice receipt with a traditional software approach, but that solution lacked the flexibility, scalability and adaptability to meet their growth model. Both companies chose a SaaS AP automation solution that included a fully functioning digital mailroom with optical character recognition (OCR).
This session will explore the challenges both companies face, examine how a common SaaS solution revolutionized their respective AP departments, and break down why SaaS was the right choice for these two major companies with very different problems.
"DataServ has been taking our thought leadership on the road to conduct educational breakout sessions at various industry conferences for several years, and we look forward to sharing our experience and knowledge with this new audience at the APP2P Conference and Expo," says Haller. "We always strive to keep our sessions educational, and this year will be no exception. Attendees can expect the highest-quality of thought leadership available in the industry in a session I will co-host with practitioners from two different Fortune 500 companies, both of whom will share their experiences on why a SaaS solution was right for their respective organizations."
About DataServ
DataServ is a global SaaS provider of document and process workflow automation for the financial operations and human resources functions. A cloud computing pioneer of FinTech solutions for Purchase to Pay (P2P) and Quote to Cash (Q2C), DataServ's Open E-Invoicing is utilized by companies in 48 different countries.