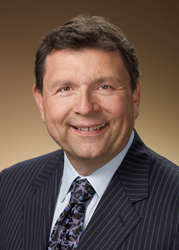 In 2015, much of our growth focused on increasing the value of our clean energy investments and expanding engagement efforts with our stakeholders and business partners. CalSTRS CEO Jack Ehnes
WEST SACRAMENTO, Calif. (PRWEB) May 02, 2016
The California State Teachers' Retirement System today announced the release of its second annual Global Reporting Initiative sustainability report: Fostering a Secure Future. The report provides an overview of CalSTRS' sustainable practices and performance, including overviews of stakeholder, employee and member engagement; a description of the alignment between CalSTRS' values and those of its business partners; and, examples of workforce activities promoting sustainable economic, environmental and social business practices, which guide its long-term strategy.
A new feature of this year's report is the addition of seven short videos featuring a variety of CalSTRS programs, staff and stakeholder perspectives on the organization's sustainability practices. The videos add a dynamic interactive component and engaging content to the already information-rich report.
"In 2015, much of our growth focused on increasing the value of our clean energy investments and expanding engagement efforts with our stakeholders and business partners. The results were impressively positive, indicating that the shift to embrace sustainable business practices is more than just a trend," said CalSTRS Chief Executive Officer Jack Ehnes. "This past year was a productive one in further establishing our long-term sustainable practices and confirming a secure retirement future for California's educators."
A few key investment numbers from the report:

$264 million in green bonds investment.
68 percent LEED-certified office buildings in the Real Estate Portfolio.
$103.7 million in green investments in the Infrastructure Portfolio.
56 companies held in our Global Equity Portfolio (valued at approximately $4.6 billion) were engaged regarding risks associated with hydraulic fracturing.
"CalSTRS employees also embrace this commitment by participating in a variety of workplace activities, including exploring clean air transportation and commuting options; supporting community-focused charitable campaigns; and making a concerted effort to conserve water in response to California's severe ongoing drought. In fact, since 2014, water usage at our LEED-Platinum headquarters in West Sacramento has dropped 9.3 percent," said Mr. Ehnes.
"Year after year, CalSTRS employees increasingly, and impressively, demonstrate they truly value, embrace and share a strong commitment to the principles of sustainability," he added.
About CalSTRS
The California State Teachers' Retirement System, with a portfolio valued at $186.8 billion as of March 31, 2016, is the largest educator-only pension fund in the world. CalSTRS administers a hybrid retirement system, consisting of traditional defined benefit, cash balance and voluntary defined contribution plans. CalSTRS also provides disability and survivor benefits. CalSTRS serves California's 896,000 public school educators and their families from the state's 1,700 school districts, county offices of education and community college districts. Follow us on Twitter @CalSTRS