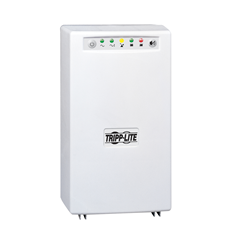 Our medical-grade UPS systems help reduce negative impacts on patients trying to rest
Chicago, IL (PRWEB) May 04, 2016
Tripp Lite, a world-leading manufacturer of power protection and connectivity solutions, now features medical-grade UPS systems with mutable alarms. These UPS systems are ideal for use in hospitals and clinics needing to improve critical alarm management, creating a quieter environment for the benefit of patients and staff alike.
As the use of technology has grown in healthcare environments, the number of alarms sounding in hospital units has increased dramatically. Tripp Lite's medical-grade UPS systems feature alarm mute/alarm quiet modes, helping to ensure patients are not disturbed when the device - rather than the patient - needs attention. Silencing non-actionable alarms also reduces occupational stress and "alarm fatigue" on clinicians themselves, enabling hospital staff to focus on performing critical patient care responsibilities.
Tripp Lite's medical-grade UPS systems comply with UL 60601-1 specifications, making them approved for use both inside and outside patient-care vicinities.
Key Features of Tripp Lite's Medical-Grade UPS Systems
-- Provide both battery backup and surge protection
-- Mutable alarm helps improve critical alarm management and creates a quieter environment for patients
-- Include built-in isolation transformer with Faraday shield
-- Hospital-grade plugs and outlets
"Alarm management is a key aspect of patient safety gaining increased focus," said Jim Folk, Tripp Lite's Director of Healthcare Solutions. "Our medical-grade UPS systems help reduce negative impacts on patients trying to rest and on clinicians focused on providing quality care."
For more information on these healthcare power solutions, visit: Tripp Lite Medical-Grade UPS Systems with Mutable Alarms.
About Tripp Lite
Outstanding product reliability and exceptional service have been Tripp Lite trademarks for over 90 years. Tripp Lite's innovations include the world's first UPS system designed specifically for personal computers and the world's most trusted premium surge suppressor-the Isobar®-with more than 19 million in use. Tripp Lite maintains the highest level of ready-to-ship inventory in the industry with more than 3,000 different products, including UPS systems, rack systems and cooling solutions, PDUs, PowerAlert software for enterprise-level system management and control, surge suppressors, KVM switches, cables and connectivity products, inverters, power strips and notebook accessories. Headquartered in Chicago, Illinois, Tripp Lite maintains a global presence with fully staffed offices worldwide. Additional information, including a list of Tripp Lite's sales offices and authorized reseller partners, can be found by visiting Tripp Lite's website: http://www.tripplite.com.