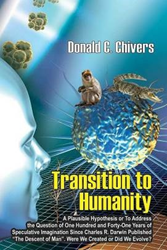 'This insightful book delves into evolution, religion, radicalization, and other timely sociological topics.' - Robert Fletcher, CEO of Strategic Book Publishing and Rights Agency
(PRWEB) May 05, 2016
Science and religion have always been at odds, but never more so than after Charles Darwin boldly published his findings on the evolution of man from lower animals in "The Descent of Man." Author Donald C. Chivers also boldly states his hypothesis that addresses the 141-year-old question: Was man created in an instant of magic, or did mankind evolve by a series of adaptations that culminated in humanity?
Religion plays an influential part in society, because without it, extinction could have ended the species. It provides hope that people don't actually die, but go to a far better place called heaven, and such a place had to have a God.
The author was inspired to write this book because he "was sickened to see the violent actions done in the name of religion. If people could understand the motivation of those perpetrating those actions, perhaps it is a first step to stopping it. I want our children to benefit from our wonderful prospects."
He explains the concept of manipulation called radicalization, which takes possession of insecure minds and propels misguided youths to seek acceptance by joining radical groups. "Transition to Humanity" attempts to understand the psychological motivations of ISIS and other movements in an evolutionary framework.
Watch the video at: https://youtu.be/-xxxUxuqJAI
About the Author: Donald C. Chivers is the author of 10 books. A veteran of the World War II Burma Campaign, he became a hospital administrator in Canada. The author grew up in Cardiff, South Wales, and now lives in White Rock, British Columbia. His photographic memory helps put reality into his books. Now retired, he enjoys writing on his balcony overlooking the Pacific.
"This insightful book delves into evolution, religion, radicalization, and other timely sociological topics. It makes for a fascinating read and we are thrilled to announce its release," said Robert Fletcher, CEO of Strategic Book Publishing and Rights Agency.
Transition to Humanity: A Plausible Hypothesis or to Address the Question of One Hundred and Forty-One Years of Speculative Imagination Since Charles R. Darwin Published 'The Descent of Man.' Were We Created or Did We Evolve? (ISBN: 978-1-68181-519-0) is now available for $27.50 and can be ordered through the publisher's website: http://sbpra.com/DonChivers or at http://www.amazon.com or http://www.barnesandnoble.com.
Wholesalers: This book is distributed by Ingram Books and other wholesale distributors. Contact your representative with the ISBN for purchase. Wholesale purchase for retailers, universities, libraries, and other organizations is also available through the publisher; please email bookorder(at)sbpra(dot)net.