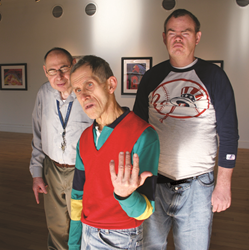 With no formal art education or training, Luke Tauber. Wayne Mazurek and Harold Jeffries transform their visions into artistic works of expression.
Palatine, IL (PRWEB) May 08, 2016
The two day only event features one-of-a-kind artwork, unique t-shirts, a variety of notecards and more created by individuals with intellectual and developmental disabilities from the renowned Little City Center for the Arts.
The Showcase is located in Woodfield Mall, lower level JCPenney Court near Kinfork Restaurant. All proceeds to benefit Little City.
For more information contact Larry Heisler at lheisler(at)littlecity(dot)org or 847-221-7825.
About Little City
For more than 50 years, Little City Foundation has developed innovative and personalized programs to fully assist and empower children and adults with autism and other intellectual and developmental disabilities. With a commitment to attaining a greater quality of life for Illinois' most vulnerable citizens, Little City actively promotes choice, person-centered planning and a holistic approach to health and wellness. Little City's ChildBridge services include in-home personal and family supports, clinical and behavior intervention, 24/7 residential services and special needs foster care and adoption. Little City's LifePath Adult Services offers a variety of residential options, employment opportunities, home-based services, case management, day supports, Special Olympics, an award-winning Center for the Arts and more. The organization is an open, therapeutic 56-acre community located in Palatine, Illinois with offices in Schaumburg and Chicago. Visit http://www.littlecity.org. To support talented artists and purchase artwork, visit http://www.littlecity.org/arts.