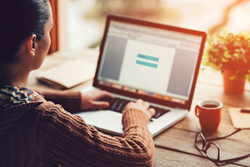 LINCOLN, R.I. (PRWEB) May 06, 2016
Today's society is more interconnected than ever before, and online habits may be exposing you to cyber attacks. May 5 is World Password Day, and it serves as a reminder to change online passwords to protect personal information.
Amica is sharing the following tips from the National Cyber Security Alliance to practice healthy online safety habits:

Make passwords a sentence: A strong password is a sentence that is at least 12 characters long. Focus on positive sentences or phrases that you like to think about and are easy to remember.
Unique account, unique password: Having separate passwords for every account helps to thwart cybercriminals.
Write it down and keep it safe: Everyone can forget a password. Keep a list that's stored in a safe, secure place away from the computer. Services like password managers are another great alternative for keeping track of passwords.
Get two steps ahead: Turn on two-step authentication – also known as two-step verification or multi-factor authentication – on accounts, where available. Two-factor authentication can use a text message to your phone, a token or a biometric – like your fingerprint – to provide enhanced account security.
For more information on World Password Day, click here.
About Amica Insurance
Amica Mutual Insurance Co., the nation's oldest mutual insurer of automobiles, was founded in 1907. The company, based in Lincoln, Rhode Island, is a national writer of auto, home, marine and umbrella insurance. Life coverage is available through Amica Life Insurance Company, a wholly owned subsidiary. Amica employs more than 3,400 people in 44 offices across the country. For more information, visit Amica.com.
Media inquiries can be sent to MediaCenter(at)amica(dot)com.
Twitter: Amica
Facebook: Amica Mutual Insurance Co.