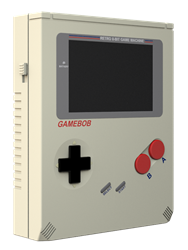 "As we embark into the future, we wanted to design something simple and elegant to help us remember the very sweet past."Cobey Pile
Phoenix, AZ (PRWEB) May 09, 2016
Home Run Games, a rapidly growing game designer and manufacturer, has announced the release of a new handheld video game console compatible with the original NES cartridges. The console's design is reminiscent of the original handheld consoles from the late 80's.
The new console has a 3.5" screen and a lithium rechargeable battery for up to five hours of continuous gameplay. The console comes with an AV/out cable for use with a monitor or television. Two original NES controller ports "make it possible to play just like you would with your old table top console," said Cobey Pile, co-founder of Home Run Games. "You can kick off your shoes and play on the TV from anywhere in the room with the system's optional wireless controllers."
"The gaming world continues to evolve with new games that offer a true alternate reality," said Michael Scott, co-founder of Home Run Games. "Our goal with the release of the GAMEBOB is to bring back the nostalgic feel of the simple video games that started the gaming revolution. Sure, having an infinite number of games at your touch is unbelievably cool, but there is something magical about taking an old cartridge out of a sleeve and putting it into the console. We want the next generation to enjoy that same magic."
GAMEBOB is available to preorder on KICKSTARTER: http://kck.st/26Y9GNX
Home Run Games Designing games that make you happy.