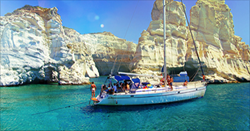 Instead of spending more time in the office to pay for your yacht, you can spend more time on your yacht to pay for your yacht!
(PRWEB UK) 18 May 2016
A revolution is coming for boat owners with the ability for their vessel to no longer be a 'hole in the water to throw money in', but a potentially cost neutral and fun way to meet new people while getting afloat.
"The social economy is bringing about a revolution for yacht ownership!" says Alessandro Zanchetton, Operations Manager of the sailing community Sailsquare.
A typical story is in Chichester, England, where a family bought a boat in 2011 yet they have yet to set sail on her five years later. "Given how busy people are, sailing their own vessels is only a dream some have even when they own their own boat," points out Alessandro. Currently, tens of thousands of yachts are sitting idle in marinas across Europe, with boat owners lucky to get a month's sailing in a year despite spending thousands of Euros to keep them basically rotting at the dock.
The "social economy" has been thrust into the limelight with the launch of the international bed and breakfast community Airbnb across Europe, and the growing Uber taxi company that is becoming the preferred ride of choice by millions of people around the world.
Now, Sailsquare is doing the same for yachting. Yacht owners can take people sailing for a fee, using the Sailsquare online platform to secure bookings. Alessandro explains, "Currently there are 1,000 yacht owners using the Sailsquare platform, taking people around Europe and the Caribbean amongst other destinations. Boat owners sign up with us, giving us proof they have insurance to take people sailing, and then advertise their planned adventures online for free. We then take a cut of their final fee when the trip is completed. We have over 30,000 non boat owning people registered with us who may want to come sailing with you, so there is a huge opportunity to take people sailing!"
For a week long sailing trip around the Adriatic in July, yacht owning skippers can charge €2000 for four people. Given that a yacht moored in a premium marina can cost upwards of €8000 a year to just leave at the dock, this shows that this idea has real potential for the boat owner!
Alessandro says, "The revolution is coming where people can justify their sailing time as having more time sailing every year because they are getting paid to do it. Instead of spending more time in the office to pay for your yacht, you can spend more time on your yacht to pay for your yacht!"
Sailsquare is looking for more yacht owning skippers to join their community. Boat owning skippers just need proof of their appropriate license / sailing insurance to take paid passengers and then sign up with Sailsquare via this link: https://www.sailsquare.com/skipper?referral_code=prprjkt2016
NOTE TO EDITORS
Case studies including high res photographs available on request.
Alessandro Zanchetton is available for interview. Email alessandro(at)sailsquare(dot)com