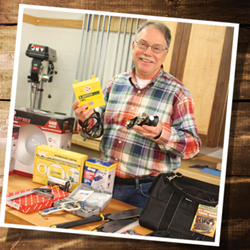 Get the Woodcraft catalog, mark it up, and give it to your son or daughter or your wife, and say, "Here's what I want for Father's Day."
PARKERSBURG, W.VA. (PRWEB) June 06, 2016
Make Woodcraft your Father's Day shopping headquarters. Scott Phillips, co-host of "The American Woodshop" with his wife Suzy, makes it easy with his Father's Day Gift Guide – nearly three dozen suggestions from Woodcraft's line of woodworking tools, accessories and supplies.
Check out Scott's selections below for the fathers in your life. For more details about these products, visit woodcraft.com.
Scott also has a suggestion for fathers: "Get the Woodcraft catalog, mark it up, and give it to your son or daughter or your wife, and say, 'Here's what I want for Father's Day.' "
$1-$25 Range
"Woodcraft Magazine" – A one-year subscription will bring Dad six issues packed with woodworking projects, techniques, new tools and more.
MILESCRAFT Drive90PLUS Impact Ready Right-Angle Driver Attachment – Designed to accept most standard hex accessories, this attachment makes close-quarters operation a cinch even when using an impact driver.
General Tools LED Display Moisture Meter Model MM1E – Dad can check the all-important moisture content of wood, drywall and concrete with this handy pin type meter.
Pica-Dry Longlife Automatic Pen & Refill Set in Assorted Colors – Hard graphite lead makes this pen excellent for marking wood; colored leads work well on darker woods.
MILESCRAFT FramingSquare 300 & 500 Imperial – Laying out angles, marking shelf pin locations, and installing Euro-style hinges are all easy tasks with each of these handy squares using standard imperial measurements.
$26-$60 Range
Kreg Jig R3 Kit with Free 2" Classic Face Clamp – This popular pocket-hole joinery kit with a free clamp is a limited time offer.
Keystone LED Lighting 30W 2500 & 50W 4400 Lumen LED Utility Bulbs with Hoods – These new LED bulbs screw into an ordinary fixture, but light as large an area as two fluorescent fixtures.
Keystone LED Lighting 1000 Lumen LED Area Light – For Dad's closeup work, choose this small but powerful area light.
Woodcraft 21-Pocket Tool Bag – Store tools and accessories in this handy "ready-to-go" bag.
Woodcraft 30-Pocket Tool Roll – Keep carving and other smaller hand tools separated and safe from damage in this tool roll.
KOMELON Speed Cut 265mm Carpenter's Saws – This new line of saws for the woodworker or homeowner is designed to use with the pull cut and comes with either a pistol grip or standard grip.
Veritas Standard Dovetail Saw 14 TPI – Dads who build with dovetail joinery will welcome this saw made for use with stock thicker than 1/2".
WoodRiver 4-pc. Butt Chisel Set – These butt chisels are made with chrome-vanadium steel blades and bubinga handles.
$61-$120 Range
iVAC PRO 115-Volt & 240-Volt Remote Controls For Dust Collectors – To keep Dad's work area dust free easily, buy this remote control that will switch on a dust collector automatically.
Portamate Panel Carrier – Woodworkers and do-it-yourselfers who work with large pieces of wood or other material can easily transport and lift the material to table saw or tabletop height.
Starrett 12" Combination Square – A precision-ground head with 90° and 45° faces and a 12" combination square with hardened scriber and spirit level will give Dad professional measuring capability.
pfeil 4-pc Swiss made Starter Set Intermediate Size Carving Tools – Get Dad started in carving with quality Swiss made tools.
WoodRiver 6-pc. Bench Chisel Set – From mortise-and-tenon joint work to chamfering edges to installing hinges, these chisels will pay their way in woodworking or home improvement tasks.
$121-$175 Range
Tanos T-LOC SYS-Combi II Systainer, T-LOC SYS-Combi III Systainer, and the T-LOC SYS-Sort IV/3 Systainer – These new offerings in the popular Tanos portable Systainer storage and transport system are available in anthracite and light gray. The Combi II and Combi III feature a regular systainer with a drawer below, while the Sort IV/3 is a set of three drawers. The Tanos Systainer Drawer Accessory Set ($1-$25 price range) offers sorting options and fits all drawers.
WoodRiver V3 #4 Bench Hand Plane – The #4 is designed for smoothing and other light shaping tasks in woodworking.
Find out more about Scott and Suzy Phillips at http://www.wbgu.org/americanwoodshop.
To learn more about Woodcraft, please contact the store nearest you, visit http://www.woodcraft.com or call (800) 535-4482.