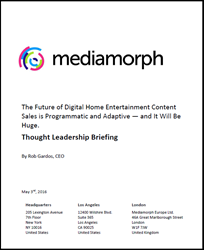 (PRWEB) May 16, 2016
Mediamorph, the award-winning software partner to the largest Media & Entertainment companies, released a white paper entitled, "The Future of Digital Home Entertainment Content Sales is Programmatic and Adaptive — and It Will Be Huge".
White paper abstract: Following the course of Programmatic Advertising, sales of Digital Home Entertainment content will also become programmatic and adaptive. As we have witnessed with the explosive growth of Programmatic Advertising, where 59% of all US digital display advertising ($15.43B) was sold programmatically in 2015, we will witness a similar growth in "Programmatic Content", where studios will sell, merchandise and price their content to Video Service Providers in an adaptive fashion, thus enabling far greater scale and monetization.
"Our customers are telling us the time is now to improve their supply chain technologies, tools, and analytics," said Rob Gardos, CEO of Mediamorph. "We have invested our resources in software solutions that leverage our global reach to make that happen."
The full white paper can be downloaded here: http://www.mediamorph.com/whitepaper_download/