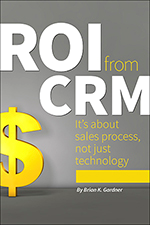 LAFAYETTE, Colo. (PRWEB) May 19, 2016
Learn simple, yet effective strategies for getting the most from your customer relationship management with ROI from CRM, a new book by Brian Gardner, published by Gale Media, Inc. (paperback; $59.95; ISBN: 978-0-9906738-4-2, also available as an e-book).
About the book:
In this book, author Brian Gardner taps his decades of industrial sales experience to explain why CRM is about sales process, not just technology. With detailed instructions and easy-to-use tables, learn how to approach CRM as a system for sharing and leveraging data throughout your business, and how to gain a competitive edge in the market with a revamped sales process and engaged team.
With this book, you'll also learn:

Common reasons that CRM fails – and how you can avoid them
Why CRM should be viewed as a revenue generator, not a cost
Why limiting CRM to outside sales will cause you to miss out on half its value
How to identify and fill gaps in your business using Gardner's results-driven Sales Process Review and CRM Roadmap Matrix
How to break old habits and get your team on board with CRM
Whether you already have CRM or are just starting on the journey, ROI from CRM (http://www.mdm.com/roicrm) will give you the tools to successfully navigate the sales process from lead to close with CRM.
About the author:
Brian Gardner spent more than 20 years in technical and industrial sales in the process control and instrumentation industry. He founded SalesProcess360 to share best practices with industrial sales companies and help them think differently about sales process and CRM.
ROI from CRM is now available to order online via Modern Distribution Management at http://www.mdm.com/roicrm. Or call 888-742-5060.
About Gale Media, Inc.:
Gale Media is a market-leading information services and publishing company. Its two business units – Modern Distribution Management (http://www.mdm.com) and MDM Analytics (http://www.mdm.com/analytics) – provide knowledge products and services to professionals in industrial product and wholesale distribution markets. Since 1967, MDM has been the definitive resource for distribution management best practices, competitive intelligence and market trends through its twice-monthly newsletter, market intelligence reports, books and conferences. MDM Analytics provides proprietary market research and analytic services to profile market share and account potential for industrial products.