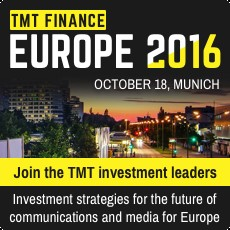 (PRWEB UK) 19 May 2016
TMT Finance Europe 2016 will take place in Munich on October 18, to assess telecom, media and technology investment strategies and opportunities across the region, TMT Finance, the global news and events provider, has announced.
The internationally acclaimed event series, which gathers C level executives, investment bankers, private equity investors and advisers, will take place in Germany for the first time following 3 years in Warsaw. (http://www.tmtfinance.com/europe)
"Following overwhelming demand from our international community of TMT executives, financiers and advisers we have moved this year's Central and East Europe-focused event from Warsaw to Munich and will expand the event's regional focus," commented TMT Finance Founder and Managing Director, Dominic Lowndes. "Consolidation and convergence in the telecom, media and tech sectors is accelerating fast across Europe, and this is a fantastic time to gather the key players and investors in Munich to assess the latest opportunities."
TMT Finance Europe 2016 will feature over 60 key speakers representing the leading regional telecom, media and tech executives (CEOs, CSOs, CFOs Heads of M&A), Investment Bankers, Investors and Advisers. Key session themes on the programme include: TMT Investment Strategies; Mergers and Acquisitions; Regional Cable Consolidation; Media and Convergence; Enterprise Cloud & Hosting Investment and M&A; Mobile Infrastructure Investment; Financing TMT; Private Equity in TMT; Digital Regulation; Datacentres and the Internet of Things.
The event will feature 25 sessions including a series of Leadership Panel Debates, Keynote Speeches, Peer to Peer Round Tables, and Executive Networking Sessions highlighting new opportunities for investment and partnership across the region. The TMT Finance global conference series is renowned for bringing together leadership from the telecom, media, tech, finance and international advisory community to debate strategy, investment and partnership opportunities.
TMT Finance, is the leading provider of exclusive news and events on telecom, media and tech mergers and acquisitions, financing and investment globally. The TMT Finance Global Events series was launched in 2009 and provides a unique platform for facilitating dialogue between leading industry executives and the global financial and advisory community.
Speakers and delegates are telecom and infrastructure CEOs, CFOs, CSOs and Heads of M&A, investment banking heads, private equity investors, government representatives, regulators and specialist legal and strategic advisers and thought leaders.
For more information go to http://www.tmtfinance.com/europe
For sponsorship or speaking opportunities, contact enquiries(at)tmtfinance(dot)com