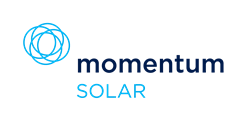 We are honored to be a part of this festival and proud to be a platinum sponsor for the St. George Greek Orthodox Church.
Edison, NJ (PRWEB) May 20, 2016
Momentum Solar (http://momentumsolar.com) is showing no signs of slowing down as they continue their growth in the Tri-State area. They have just completed a new rebranding campaign and have even constructed a new company website. Momentum Solar not only looks to increase their online presence through the new website, they also plan on making an appearance at the Clifton Greek Festival to reach out and get some face time with their valued customer base.
The Clifton Greek Festival offers a chance to experience the sights, sounds, and delicious foods of the Greek culture right in the heart of North Jersey. The festival will be packed with many fun activities for children and parents alike including live entertainment featuring Bouzouki music, color pageantry, Greek folk dancing, and authentic Greek foods. Tours of the church will also be offered showcasing an up-close look at the Byzantine style iconography and hand-carved alter facade that was imported from Greece over 40 years ago. Momentum Solar will have a table at the festival. Festival coordinator, Father Peter Souritzidis, commented on their partnership with Momentum Solar for the upcoming festival, "We welcome Momentum Solar and are grateful for their generous support. We look forward to having them teach the local community about solar programs and educate homeowners on renewable green energy options in our area."
The festival takes place at 818 Valley Road in Clifton, New Jersey from May 20th to May 22nd. There is a small $1.00 admission fee, which will be donated to the Saint Nicholas National Shrine at the World Trade Center. All are welcome to attend and learn more about the amazing Greek culture and the Orthodox faith. Momentum Solar is excited for their upcoming event, "This will be an opportunity for locals to find out if solar panel power is right for them and learn how they can go solar with no out-of-pocket expenses. We are honored to be a part of this festival and proud to be a platinum sponsor for the St. George Greek Orthodox Church," says Momentum Solar COO, John Carfagno.
About Momentum Solar
Momentum Solar is a privately held NJ solar energy company located in Edison.  The company is committed to making solar panels affordable while providing immediate savings for their clients. Their team of in-house professionals has an extensive wealth of knowledge in custom designing solar systems for both residential and commercial properties. Momentum Solar takes care of the entire process including the design, permitting, and installation of the system to make the process simple and easy for their customers.