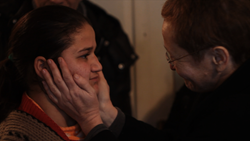 London, UK (PRWEB UK) 24 May 2016
The multi-award-winning independent documentary Endless Corridor (Aleksandras Brokas; US/Lithuania; 2015) will receive its UK TV premiere tonight (19 May) on London Live TV at 19.00hrs. Broadcast immediately following the evening news bulletin, London Live has a potential primetime viewership of 190,000 in Greater London. This documentary – which has just been submitted for the 2016 Emmy Awards – charts the testimonies of some of the survivors from the Khojaly Massacre. This was the worst single atrocity of the Armenian–Azerbaijani conflict over Nagorno-Karabakh. A total of 613 civilians lost their lives on 26 February 1992.
To watch Endless Corridor – narrated by Oscar-winning actor Jeremy Irons – simply go to http://www.londonlive.co.uk/tv or tune in to Freeview Channel 8, Satellite Channel 117 or Cable Channel 159.
Endless Corridor is a film that came about because Ricardas Lapaitis, a Lithuanian journalist and witness of the horror of Khojaly, could not let the experience lie or forget the people who survived. He returned with a touching and human desire to find out how the survivors coped with memories of loved ones killed before their eyes. Russian journalist Victoria Ivleva was also reunited with Mehriban, a mother whose two-day-old baby she had saved in the chaos. The stories are of ordinary people whose lives were devastated by the Armenian invasion of their land.
Following its international premiere throughout 2015, Endless Corridor attracted plaudits from critics across the world. It has received the Best Documentary and Best Director for a Documentary Prizes at the Tenerife International Film Festival in Madrid; the Best Documentary Editing Prize at the Milano International Filmmakers Festival; and in the prestigious US-based Accolade Global Film Competition, it achieved two awards – Best of Show in May 2015 and in January 2016 the Outstanding Achievement Award in the Accolade Humanitarian Awards 2015. It has also been screened on the pan-European Eurochannel, CNN Turk and on the TV 24 (Turkey) and Israeli Channel 1, and will soon be shown at the Cayfilm Cayman International Film Festival.