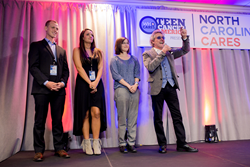 It is a wonderful accolade to our business and community leaders that they would embrace our vision and support us with such incredible resources and funding. - Sally Webb Berry, CSEP
CARY, N.C. (PRWEB) May 20, 2016
The Special Event Company served as the management company, and sponsor, for the recent North Carolina Cares fundraiser held in Raleigh, N.C. on April 28. The event, presented by Teen Cancer America and hosted by its co-founder, Roger Daltrey, brought together more than 250 members of the North Carolina community to raise money for the organization's efforts across the state.
Teen Cancer America (TCA), which was founded by legendary rockers Roger Daltrey and Pete Townshend of The Who, supports teens and young adults with cancer by partnering with hospitals across the nation to build specialized facilities that promote a teen-friendly environment. Funds raised during the North Carolina Cares event, which totaled more than $110,000, will be used to build TCA units in hospitals throughout the state.
Guests enjoyed a reception with entertainment by bluegrass sensation The HillBenders, who performed some of their signature "Whograss" hits from their bluegrass version of the rock-opera TOMMY. Following the reception, guests sat down to a rock-n-roll themed dinner, from décor to menu. Key members of the TCA community addressed the crowd, including Roger Daltrey, TCA Ambassadors (who were teen cancer survivors themselves), as well as local business leaders who are leading the state-wide initiative.
The evening concluded with a live auction and raffle of one-of-a-kind themed prizes including being a roadie for the day with The Who, VIP concert tickets for the upcoming Coachella festival, and many autographed items from The Who, Eddie Vedder, Joan Jett and other TCA Ambassadors. PGA Tour Rookie of the Year Star and new TCA Ambassador, Daniel Berger, donated the opportunity to be his 'interim caddie' for a day at a practice day on the tour.
The Special Event Company, with help from their CEO and founding TCA Board Member, Sally Webb Berry, CSEP, has been a driving force in bringing TCA facilities to North Carolina and has been a major supporter of the organization since it's inception in 2012.
Thanks to the North Carolina Cares fundraiser, and the newly launched "Leadership TCA" initiative, a spark has been ignited in North Carolina and The Special Event Company plans to continue their support as the initiative spreads across the state, and, inevitably, across the nation.
For more information about North Carolina Cares and Teen Cancer America, visit: https://www.teencanceramerica.org.
QUOTES:
"After decades of unwavering support by Roger for teenage specific facilities and treatments, first in the UK then here in the USA for the past four years, the support our region has given to TCA makes me very proud of our progressive community. It is a wonderful accolade to our business and community leaders that they would embrace our vision and support us with such incredible resources and funding." - Sally Webb Berry, CSEP
Roger Daltrey said, "This was one of the best fundraising events I've ever attended – it was really on message and delivered the issues surrounding the challenges faced by this underserved population of teens in an elegant, thoughtful and exciting way. I am so happy that thanks to the effort of Sally's team, North Carolina is becoming a leading force in spearheading our nationwide mission."
ABOUT THE SPECIAL EVENT COMPANY:
The Special Event Company (TSEC) has provided exceptional strategic and creative delivery of meetings and events since our formation in 1987. From our headquarters in Cary, N.C. and satellite offices in Newport Beach, Calif., London, and Sydney, the company executes global programs with seamless efficiency. We offer a turnkey service for site selection, planning, logistics, production and audio visual, transport, collateral and graphic design. Our team of professional planners will effectively budget, design, source, contract, and execute award-winning programs, which exceed clients' goals and deliver excellent ROI. For more information, please visit http://www.specialeventco.com.
###