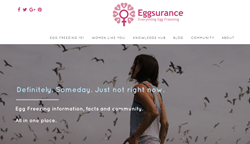 As the number of women seeking egg freezing technology continues to grow, the Eggsurance website is a wonderful source for everything egg freezing. -- Dr Jamie Grifo, NYU Fertility Center
Los Angeles, CA (PRWEB) May 24, 2016
Eggsurance, the first independent, non-clinic related website devoted to everything egg freezing, today announced the official relaunch of its community and education hub for women considering fertility preservation, as well as those ready to use their frozen eggs. Eggsurance's mission is to create a safe and welcoming place for women to find cycle buddies, get clinic recommendations and gain knowledge to make informed decisions.
"Eggsurance is a dynamic community for proactive women who want to ensure they have the option of having children when they are ready," said Dr. Jamie Grifo, MD, PhD. "As the number of women seeking egg freezing technology continues to grow, the Eggsurance website is a wonderful source for everything egg freezing. Happily, the NYU Fertility Center will continue to collaborate with Eggsurance in the future."
Egg Freezing Moves Mainstream
Today, an unprecedented number of women in the United States are waiting until after age 35 to have their first child. Such delays leave women vulnerable to age-related declines in the quantity and quality of their ovarian reserves. Advances in vitrification, a flash freezing technique, keeps delicate human eggs intact for future implantation effectively pausing the biological clock and providing women with the possibility of a future child.
In 2012, based on the growing success of egg vitrification technology, the American Society for Reproductive Medicine (ASRM) removed egg freezing's experimental label. Two years later, Apple and Facebook announced coverage of fertility preservation for their employees. No longer in the early adopter stage, the number of women freezing their eggs has soared in recent years. According to the ASRM, elective egg freezing rates have increased more than eightfold in the U.S. from 475 women in 2009 to almost 4,000 in 2013.
Eggsurance was conceived and launched when egg freezing was still considered experimental. As Founder Brigitte Adams explains: "The egg freezing landscape has shifted dramatically in a few short years. Now it's part of our vernacular and is not only attracting more women, but also a younger demographic. In addition, more and more early adopters like myself, are coming back to use their frozen eggs. Eggsurance has evolved to reflect these new trends in the fertility preservation landscape."
About Eggsurance
Eggsurance, the first independent, non-clinic related education and community website devoted to everything egg freezing, was launched in May 2012. Founder Brigitte Adams became the face of egg freezing when Bloomberg BusinessWeek put her on its "Later, Baby" cover in April 2014. Since launching the site, Adams has been featured in TIME, The Meredith Vieira Show, NPR, The Financial Times, WSJ, Jezebel, Huffpost Women and more.
Learn more: http://www.eggsurance.com
Follow us on Twitter: https://twitter.com/Eggsurance
Like us on Facebook: https://www.facebook.com/Eggsurance
Watch videos on Vimeo: https://vimeo.com/user52252366