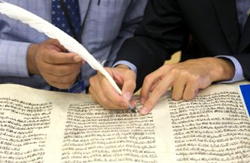 Bronx, NY (PRWEB) May 20, 2016
Last year, Calvary Hospital started restoring a historic Torah scroll, No. 515, from the town of Taus Domazlice. This scroll, technically a Holocaust survivor, is on permanent loan to Calvary from the Memorial Scrolls Trust in London. The scroll is housed at the Hospital's Bronx campus. The goal is to repair this Torah – dating from 1880 – so that it will once again be kosher for use in services and Jewish rituals.
Calvary will host the next letter writing event on Sunday, June 26.
Since it was founded in 1899, Calvary has always welcomed patients from diverse faiths and religions. The Hospital is grateful to the Charles R. and Winifred R. Weber Foundation for their early, generous support of the Torah Restoration project. To support this important initiative, please visit: http://www.calvaryhospital.org/torahrestoration.
The Hospital's outreach to the Jewish community, and the Torah Restoration, has been spearheaded by Dr. Michael J. Brescia, Executive Medical Director.
During World War II, the Nazis confiscated all the Jewish ritual items and sacred Torah Scrolls from Jewish communities of Bohemia and Moravia, then known as Czechoslovakia. This collection of Jewish cultural and religious artifacts bears witness to the horrors of the Holocaust.
In 1964, the Westminster Synagogue in London, England, agreed to receive 1,564 Torah Scrolls from Prague. They established the Memorial Scrolls Trust to restore the scrolls and distribute them to communities throughout the world. Torahs are currently on permanent loan to more than 1,400 congregations throughout the world; an estimated 1,000 in the U.S. alone. To learn more about the Trust, please visit: http://www.memorialscrollstrust.org.
Three Rabbis at Calvary care for hundreds of Jewish inpatients and home hospice patients each year. In addition to kosher food upon request, Jewish inpatients and their families can expect a daily visit from a Rabbi, food from an expanded Kosher Hospitality Room, dedicated Shabbos Lounge, Kabbalat Shabbat service, and celebrations of all major holidays.
About the Company:
For more than a century, Calvary Hospital has been the nation's only fully-accredited, acute care specialty hospital devoted exclusively to providing palliative care to adult patients with advanced cancer and other life-limiting illnesses. More than 5,800 patients are cared for annually by Calvary's inpatient, outpatient, home care, hospice, and wound care services. Inpatient care is offered at our 200-bed facility in the Bronx and our 25-bed Brooklyn Satellite at Lutheran Medical Center. Calvary Hospice provides short-term inpatient care at The Dawn Greene Hospice, located at Mary Manning Walsh Home in Manhattan. To learn more or sign up for the e-newsletter, Calvary Life, please go to http://www.calvaryhospital.org.