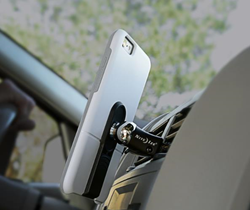 This solution does not exist today and we are confident users will appreciate the utility and freedom the uniVERSE system provides.
Boulder, Colo. (PRWEB) May 24, 2016
OtterBox®, the No. 1-selling case for smartphones in the U.S., has partnered with the world's leading accessory brands for consumer electronics to create an entirely new platform – one case with endless possibilities. Nite Ize® is among these elite partners and is excited to introduce the Steelie® Vent Mount Kit, developed exclusively for the new OtterBox uniVERSE Case System.
The uniVERSE Case System allows iPhone® 6/6s and iPhone 6/6s Plus users to impressively expand their phone's features while relying on OtterBox's Certified Drop + Protection standards. The case features a slotted rail design under a removable accent plate that lets the user securely attach and easily exchange different premier partner modules like the Nite Ize Steelie Vent Mount Kit — without removing the case.
"We have been a distribution partner for OtterBox for many years now," Nite Ize CEO and Founder Rick Case said. "This uniVERSE opportunity is exciting because it allows us to work together in a different capacity. The OtterBox uniVERSE Case System provides a universal and affordable solution for iPhone users with best-in-class device protection in combination with the convenience of many other enhancements. This solution does not exist today and we are confident users will appreciate the utility and freedom the uniVERSE system provides."
The Steelie Vent Mount Kit allows a phone in the uniVERSE case to attach to almost any vehicle's dashboard vent for hands-free use. This convenient and easy-to-use kit is comprised of two main components: the uniVERSE module with a Steelie Magnetic Phone Socket and the Steelie Vent Ball Mount.
The Steelie Magnetic Phone Socket features a powerful neodymium magnet with a silicone center that provides a secure hold and easy positioning on the Vent Ball Mount. The socket adheres semi-permanently to the OtterBox-compatible module with 3M® VHB® foam tape. The user can customize the position of the magnet to ensure it is placed in the center of the device, depending on whether it is an iPhone 6/6s or iPhone 6/6s Plus.
The Vent Ball Mount has a durable cast aluminum body that securely clips and unclips from most vehicle vents with a cam locking lever. The vent ball's round shape allows endless positioning options, while the strong force of the Magnetic Phone Socket keeps the phone anchored in place.
The Nite Ize module is also compatible with several other Steelie products including the Pedestal, HobKnob® and Car Mount which will allow users to further expand their accessory options to increase functionality, visibility and access for mobile devices.
"We believe there is value in the versatility the system provides," Case said. "This concept allows freedom to affordably expand the functions of a mobile device. That is innovation."
The Nite Ize Steelie Vent Mount Kit for the uniVERSE Case System will be available May 29 in Best Buy retail stores, BestBuy.com, OtterBox.com and Amazon.com for $39.99. For more information about the OtterBox uniVERSE Case System, visit otterbox.com.
Specifications:

MSRP: $39.99
Compatible with: OtterBox uniVERSE Case System for iPhone 6/6s or iPhone 6/6s Plus
Module weight: 0.35 oz | 10g
Module dimensions: 3.9 in x 1.14 in | 99 mm x 29 mm
Vent mount weight: 1.9 oz | 53.9 g
Vent mount dimensions: 1.2 in x 1.0 in x 2.5 in | 31.1 mm x 25.1 mm x 63.5 mm
About OtterBox:
Starting in 1998 with a line of dry boxes, OtterBox has evolved into the No. 1-selling case for smartphones in the U.S. and a global leader in mobile device protection. Its diverse lineup of protective solutions for smartphone and tablet devices is the result of precision engineering, diligent testing and continual technological advancement, giving technology users the confidence to make the most of their mobile world. OtterBox is a seven-time honoree on the Inc. 5000 list of fastest growing private companies in the U.S. and was named one of "America's Most Promising Companies" by Forbes Magazine. The company is headquartered in Fort Collins, Colo., with offices in San Diego; Cork, Ireland and Hong Kong.
For more information, visit OtterBox.com. Protecting your mobile world.
About Nite Ize:
Founded on the principles of creativity and innovation, Nite Ize designs, manufactures and distributes solution-based products with quality and performance at their core. Headquartered in Boulder, Colo., the company celebrated its 26th anniversary in 2015 and offers more than 500 innovative products and accessories in six unique categories: mobile, hardware, LED, flashlight, pet and lifestyle. Still captained by its founder and CEO, Rick Case, the Nite Ize team is passionate about their products, their customers, their partners and the environment.
For more information, please visit NiteIze.com.
Media Contact: Kelly Richardson / 720-508-4741 / krichardson(at)niteize(dot)com