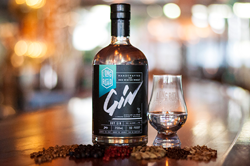 Grand Rapids, Michigan (PRWEB) May 24, 2016
Internationally recognized Grand Rapids distillery, Long Road Distillers, announces global acclaim at the largest gin tasting event in the world. The distillery was awarded a Double Gold medal for Long Road Gin at The Fifty Best Gin tasting event.
The award-winning-90-proof spirit is made from 100 percent locally grown red winter wheat and features an individually distilled six-ingredient-botanical blend. Non-chill filtration techniques give Long Road Gin its smooth-handcrafted taste rather than the carbon and charcoal filtration technique that is used by others distillers. The spirit is 45 percent alcohol by volume (ABV).
"When we started Long Road Distillers, Jon and I made a promise to ourselves that we would source our ingredients locally, mill, mash, ferment, and distill everything on-site at our distillery, and filter it honestly," said Kyle VanStrien, co-owner of Long Road Distillers. "I believe our commitment to sourcing ingredients rather than spirits, and using time-honored techniques without taking shortcuts is what sets us apart from others in the industry and in competitions like these."
Spirits from around the world were entered into the Fifty Best event. 17 pre-qualified judges evaluated each spirit separately based on preset tasting rules. Each spirit was served to judges in fresh glasses from newly sealed bottles and was served slightly above room temperature to ensure optimum flavor. Judges noted their nose, palate and finish impressions of Long Road Gin, which provided hints of lemon, lime, cherry, floral, juniper, eucalyptus and more.
In addition to this award, the spirit has also received bronze, silver and gold awards at various international spirit competitions within the past year. Long Road Distillers has garnered a multitude of international honors for their line of spirits. The most notable accolades were earned at three major spirits competitions and include three double-gold medals, six gold medals, two silver medals, three bronze medals and a best in show recognition. The West Michigan Distillery has also expanded distribution to over 200 Michigan locations in the past year.
"This has been a huge year of progress for Long Road," said Jon O'Connor, co-owner of Long Road Distillers. "Every award won and distribution expansion made motivates our team to stay committed to our mission and values. We look forward to what the future has in store for our distillery."
For more information about Long Road Distillers please visit: http://www.longroaddistillers.com.
For more information about the Largest Tasting of Gin in the World event held by The Fifty Best please visit: http://www.thefiftybest.com/spirits/best_gin.