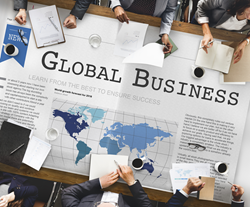 During the course, you'll develop vital skills, such as data collation and assessment – which will demonstrate to employers around the world that you have the specialised skills and knowledge they're looking for
London, England (PRWEB UK) 24 May 2016
London School of Marketing has released a blog post, examining the benefits of taking an International Accounting degree. The post looks at some of the roles which International Accounting graduates are suited to, including public accountant, auditor, government accountant and investment accountant.
Anton Dominique, LSM's chief marketing officer, said: "A degree in International Accounting is particularly useful if you have big plans for your career in accounting and want to graduate with global employability.
"During the course, you'll develop vital skills, such as data collation and assessment – which will demonstrate to employers around the world that you have the specialised skills and knowledge they're looking for."
The blog post explores a number of other advantages to gaining a qualification in International Accounting. Students develop an in depth knowledge of foreign exchange markets, exchange rates and interest rates. The course also has a strong emphasis on international trade and investment, global communication and cultural awareness, the post explains.
The full blog post, including a more detailed look at how studying International Accounting can help students to gain global employability, can be viewed here. The internationally recognised courses and qualifications offered by the school, including its International Accounting degree, can be viewed at http://www.londonschoolofmarketing.com/our-courses.
London School of Marketing delivers accredited marketing and business qualifications, and offers professional courses from recognised professional bodies such as CIM, EduQual and academic qualifications on Marketing, Business, Finance, Law and HRM from Anglia Ruskin University and The University of Northampton. Based in Central London, they are a QAA approved institution. The school also has offices in Sri Lanka, a network of Local Access Points (LAPs), and online programmes of learning.