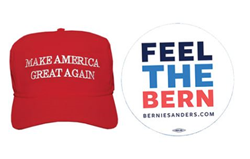 "There's no doubt today's candidates know the high value of promotional products in catching voters' attention and getting the word out about their campaign," said CJ Mittica
TREVOSE, PA (PRWEB) May 24, 2016
A new report from Counselor® magazine says the millions spent on campaign swag is playing a key role in the unexpected rise of presidential candidates Bernie Sanders and Donald Trump.
Through February's primaries, the Vermont senator spent $7.5 million on promotional products, which makes up 6% of Sanders' total spending. The Republican billionaire spent $3.3 million, accounting for 9.8% of his total campaign spending, according to campaign reports reviewed by Counselor Executive Editor C.J. Mittica for a May cover story, "The Election Connection."
By contrast, Democratic frontrunner Hillary Clinton spent $1.3 million on campaign items through February, and former Republican challenger Ted Cruz spent $1.1 million, according to Counselor.
"Through concerted marketing efforts that include savvy messaging and a heavy investment in promotional products, both Sanders and Trump wildly surpassed expectations in this campaign," said Mittica. "There's no doubt today's candidates know the high value of promotional products in catching voters' attention and getting the word out about their campaign, whether through hats and T-shirts or yard signs and buttons."
Counselor magazine is published by the Advertising Specialty Institute® (ASI). The magazine delivers award-winning content to executive-level distributors and small-business owners throughout the $22 billion promotional products industry. The Counselor election cover story includes sidebars on selling to campaigns, marketing lessons and how distributors are profiting from campaign advertising.
According to a recent Reuters report, spending on campaign swag by Trump and Sanders may have reached record levels, with nearly $20 million spent to date on campaign hats, T-shirts, bumper stickers and other merchandise. The promotional products are either given away at campaign events or sold through the candidates' campaign stores.
The official Trump campaign store features a variety of promotional products, including apparel priced from $18-$55 and caps with his popular "Make America Great" slogan. Sanders' official store offers dozens of items, like a $15 "Feel the Bern" coffee mug and $15 "Babies for Bernie" bib, along with a "Pride Collection" of rainbow-centric items.
The Hillary Clinton campaign store features the widest array of branded items, including a $5 "Woman Card," $35 cellphone case and $55 "A Woman's Place is in the White House" pillow.
Promotional products, also known as swag, are items like pens, T-shirts, caps, coffee mugs and high-tech electronics imprinted with a logo or slogan and often given away by candidates, companies, schools and nonprofits to advertise their brand and events and to thank employees and clients.
For more information, contact Counselor Executive Editor C.J. Mittica at cmittica(at)asicentral(dot)com.
About ASI
The Advertising Specialty Institute (ASI®) serves a network of 25,000 suppliers, distributors and decorators in the $22 billion promotional products industry. For more info: http://www.asicentral.com.