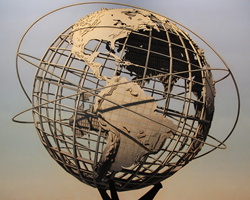 New York, NY (PRWEB) May 25, 2016
New York artist Glen Hansen will debut a new work, 1964, among the 10 paintings that will be featured at Mitsui Fudosan America's (MFA) forthcoming art showcase at 527 Madison Avenue, its boutique office building in the Plaza District. The artwork, created at various points throughout Hansen's career, will be on display in the lobby gallery from May 25 – September 9, 2016. Located at 54th Street and Madison Avenue, the show will be open to the public from 9 a.m. to 5 p.m., Monday through Friday.
A recognized leader in the genre of representational art for over 30 years, the School of Visual Arts graduate and former teacher credits New York City's environment and architecture for inspiration behind this set of works. The exhibition will highlight pieces that take New York City as their subject, including images of the Metropolitan Life Tower, Central Park, the Woolworth Building, Park Row, Yankee Stadium and Forest Hills. His major new work, 1964, depicts the landmark Unisphere in Corona Park, Queens. The pieces will be available for sale.
"Glen Hansen creates through an intense process that requires countless hours of observation and preparation before he picks up his brushes," said Jay Grimm, who serves as art consultant to MFA and organizes the property's arts program. "His art is a testament to his technical skill and dedication to his calling."
Hansen's paintings are distinguished by their ability to capture both light and form. Stillness pervades the work—Hansen never includes people—which imparts a sense of timelessness that dovetails seamlessly with the classic imagery of New York City. Its majestic architecture as seen through Hansen's interpretations commands the viewer's attention and rewards contemplation.
"We were drawn in by how he captures and celebrates the beauty and minute details of the city's unique architecture," said MFA's Keith Purcell, vice president of asset management and leasing. "Glen is well-respected for his refreshing perspective, which can be seen at some of the most prestigious locations in the city."
Hansen's work is held in numerous public collections including the Metropolitan Museum of Art, the Neuberger Museum, and the Nassau County Museum of Art, as well as many prominent corporate collections such as ExxonMobil, General Electric and NBC. He has had more than a dozen solo shows of his work, most recently at the Fischbach Gallery in New York City.
This exhibition will be the seventh showcase at 527 Madison Avenue, which often features mostly emerging, but also some established, artists based in New York City.
# # #
About 527 Madison Avenue
527 Madison Avenue, located at the corner of 54th Street in New York City, is a boutique commercial office building designed by celebrated architectural firm FXFOWLE. Completed in 1986, it is owned by an affiliate of Mitsui Fudosan America, Inc., which recently invested in significant upgrades including elevator modernization and a new MdeAS-designed lobby.
About Mitsui Fudosan America, Inc.
Mitsui Fudosan America, Inc. (MFA) is a real estate investment and development company headquartered in New York City and is the U.S. subsidiary of Mitsui Fudosan Co., Ltd. – Japan's largest publicly traded real estate company. MFA's history in the United States dates back to the early 1970s. Since its inception, MFA has acquired and developed numerous office, multifamily and hospitality properties in major markets throughout the U.S. In addition to its significant portfolio of office buildings, MFA recently expanded its development platform, with several office and multifamily development projects launched in New York, Seattle, San Francisco, and Washington D.C.