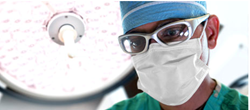 Our multidisciplinary stroke team and the parallel system of care make Memorial Neuroscience Institute at two of our hospitals among the best stroke centers in the country" - Brijesh Mehta, MD
Pembroke Pines, FL (PRWEB) May 25, 2016
Memorial Hospital West has received the American Heart Association/American Stroke Association's Get With The Guidelines®-Stroke Gold Plus Achievement Award with Target: StrokeSM Honor Roll Elite Plus designation.
This achievement, a second for Memorial Healthcare System, recognizes its commitment to emergency stroke care to ensure that stroke patients receive optimal treatment according to nationally recognized, evidence-based guidelines.
Memorial Regional Hospital was recognized for this level of achievement in 2015 for its excellence in stroke care and earned the Target Stroke Elite-Plus award again this year.
To receive the Gold Plus Quality Achievement Award, hospitals must achieve 85 percent or higher adherence to all Get With The Guidelines-Stroke achievement indicators for two or more consecutive 12-month periods and achieved 75 percent or higher compliance with five of eight Get With The Guidelines-Stroke Quality measures.
To qualify for the Target: Stroke Honor Roll Elite Plus, hospitals must meet quality measures developed to reduce the time between the patient's arrival at the hospital and treatment with the clot-buster tissue plasminogen activator, or tPA, the only drug approved by the U.S. Food and Drug Administration to treat ischemic stroke. If given intravenously in the first three hours after the start of stroke symptoms, tPA has been shown to significantly reduce the effects of stroke and lessen the chance of permanent disability.
Memorial Hospital West earned the award by meeting specific quality benchmarks for the diagnosis and treatment of stroke patients at a set level for a designated period. These quality measures are designed to help hospital teams provide the most up-to-date, evidence-based guidelines with the goal of speeding recovery and reducing death and disability for stroke patients.
"When it comes to treating stroke, 'time is brain,'" says Brijesh P. Mehta, MD, Medical Director, Stroke and Neurocritical Care, Memorial Neuroscience Institute. "Our multidisciplinary stroke team and the parallel system of care make Memorial Neuroscience Institute at two of our hospitals among the best stroke centers in the country - treating some of highest volumes of patients, with continually improving outcomes, and participating in ongoing landmark research studies to further strengthen our commitment to the field."
"We are pleased to recognize Memorial Hospital West for their commitment to stroke care," said Deepak L. Bhatt, M.D., M.P.H., national chairman of the Get With The Guidelines steering committee and Executive Director of Interventional Cardiovascular Programs at Brigham and Women's Hospital and Professor of Medicine at Harvard Medical School.
"Studies have shown that hospitals that consistently follow Get With The Guidelines quality improvement measures can reduce length of stay and 30-day readmission rates and reduce disparities in care."
About the Neuroscience Institute at Memorial Regional Hospital
The Neuroscience Institute at Memorial Hospital West and Memorial Regional Hospital are dedicated to the diagnosis and treatment of a wide range of neurological disorders and injuries in adults and children. Its team of physicians - including specialists in neurology services, neurosurgery, and interventional neuroradiology - uses advanced technology and innovative procedures in the effort to effectively treat chronic and acute neurological disorders. Assessment testing, rehabilitative therapies, social services and other support services also are available to assist patients with acute illness or injury.
Memorial Healthcare System is one of the largest public healthcare systems in the country. It is a national leader in quality care and patient satisfaction and is ranked on Modern Healthcare magazine's list of Best Places to Work in Healthcare. Its facilities include Memorial Regional Hospital, Memorial Regional Hospital South, Joe DiMaggio Children's Hospital, Memorial Hospital West, Memorial Hospital Miramar, Memorial Hospital Pembroke and Memorial Manor nursing home. For more information, visit mhs.net.