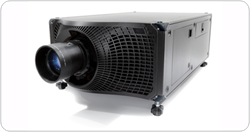 We're pleased to collaborate with our authorized partner, Total Solution Marketing, to demonstrate the capabilities of Christie Pandoras Box media servers with our Boxer 4K30 and H Series projectors at BroadcastAsia
SINGAPORE (PRWEB) May 31, 2016
Christie® visual and image processing solutions for various applications are delivering impressive displays at the annual BroadcastAsia 2016, taking place at the Marina Bay Sands, Singapore, May 31 to June 3.
At booth 4G2-03, Christie's valued partner Total Solution Marketing is showcasing industry-leading DLP® technology and solutions that offer outstanding performance, backed by years of proven industry experience and technical expertise. Visitors can check out how the award-winning Christie Boxer 4K30 3DLP® projector and Christie H Series 1DLP® projectors are deployed to present an eye-catching projection mapping showcase driven by the Christie Pandoras Box media server system.
Two edge-blended Christie D12HD-H projectors are deployed for a dynamic projection mapping demonstration at the booth. This is the first time that the high-performance H Series – boasting 12,000 lumens with built-in warping, blending and color correction functions – is showcased at BroadcastAsia. Fitted with dual lamps, the H Series is suitable for both mid-to-large rental staging and fixed applications. The high brightness and durability is a boon for rental stagers, while fixed installation applications benefit from not only the superior image clarity and color integrity, but also the compact design, enabling the Christie H Series to be installed in portrait or landscape mode.
Also turning heads is touch-free interactivity via the AirScan IR-Laser Multi-Touch Sensor, combined with the Pandoras Box Widget Designer and presented using a 65-inch Christie LCD panel. Video presentations of any type or size can be fully controlled by the user's arm gestures, providing a completely interactive experience. This adds a new dimension to interactive multimedia display and presentation solutions.
Rounding up the product showcase is a live demonstration of the Christie Boxer 4K30 projector with 4K content. With its class-leading 30,000 lumens, 4K (4096 by 2160) native resolution and weighing in at less than 160 lbs., the Boxer 4K30 has set a new industry benchmark for rental staging and fixed installation applications.
"The Pandoras Box media server and Christie visual solutions are the perfect combinations that enable rental stagers, content providers and production designers to transform their visions into reality and create the most amazing images and contents that will certainly wow audiences in any setting," said Glenn Wong, Managing Director, Total Solution Marketing. "With a greater emphasis on projection and digital image compositing for various applications such as museums and theme parks, I'm confident that the high quality contents and visuals generated by our showcased products will impress visitors of BroadcastAsia."
Lin Yu, Vice President, Christie Asia Pacific, commented, "We're pleased to collaborate with our authorized partner, Total Solution Marketing, to demonstrate the capabilities of Christie Pandoras Box media servers with our Boxer 4K30 and H Series projectors at BroadcastAsia. I'm pleased to note that Total Solution Marketing remains fully committed to serving the end-users more fully and increase the total value-added offering, which include simplifying projection mapping workflows specifically and improving the creation of compelling large-scale, multimedia experiences in general."
Trusted by content creators, rental stagers and projection designers to deliver some of the most spectacular multi-media presentations around the world, the Pandoras Box system features the most powerful render-engine offering real-time compositing in 3D, allowing for projection onto any shape and any surface. It is the ideal choice for any live event, projection mapping or multi-media show.
Over the years, the Pandoras Box system has been instrumental in delivering outstanding contents and visuals at numerous venues around the world. These include the opening ceremony of the South East Asian sporting event held in Singapore in 2015, where 18 Pandoras Box media servers generated content projected by 160 Christie J Series projectors onto the field of the National Stadium, setting a new Guinness World Record for the greatest light output for a projected image.
Visit Christie at Total Solution Marketing's Booth 4G2-03
About Christie®
Christie Digital Systems USA, Inc. is a global visual technologies company and is a wholly-owned subsidiary of Ushio, Inc., Japan, (JP:6925). Consistently setting the standards by being the first to market some of the world's most advanced projectors and complete system displays, Christie is recognized as one of the most innovative visual technology companies in the world. From retail displays to Hollywood, mission critical command centers to classrooms and training simulators, Christie display solutions and projectors capture the attention of audiences around the world with dynamic and stunning images. Visit http://www.christiedigital.com.
Follow us:
Twitter.com/christiedigital
Facebook.com/christiedigital
#christiedigital
Christie® is a trademark of Christie Digital Systems USA, Inc., registered in the United States of America and certain other countries.
DLP® is a registered trademark of Texas Instruments.