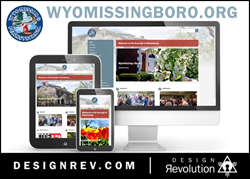 We developed the Wyomissing Borough site with a suite of technologies, resources and features based on the needs and browsing habits of its visitors.
Reading, PA (PRWEB) June 01, 2016
Wyomissing, Pennsylvania residents now will be able to find what they need on the borough's website much more quickly thanks to a new website created and developed by Design Revolution Studios, LLC (DesignRev) a full-service strategic marketing firm headquartered in downtown Reading specializing in State and Local Government Technology Solutions.
DesignRev made a complete technical and visual overhaul of the borough's website (http://www.wyomissingboro.org), that had become outdated and not user-friendly by modern website standards. Utilizing "responsive" web technology, the site now offers visitors a streamlined layout with easy-to-navigate menus, bridging the gap between form and function.
New features include:

A dynamic homepage that displays well on all devices (desktop computer, smartphone or tablet).
An attractive and inviting design, with homepage content prioritized by user feedback.
An extensive Resources Library that includes frequently used forms, applications and permits for residents and businesses; as well as Wyomissing Borough Council meeting minutes.
A streamlined online payment process, which eliminates the need to manually enter online registrations and payments for Wyomissing's summer playground programs.
Emails and RSS notifications sent directly to subscribers regarding borough news, events and more.
An interactive Google map of the borough and weather widget.
"The council recognized the need to upgrade the web site to be more attractive, responsive and technically flexible to adapt to the ever changing municipal website needs. The partnership between the Borough and Design Revolution met all of those fundamental requirements and the heart and sole of Wyomissing comes through on every page. We could not of even dreamt of the wonderful result of the partnership." said William Murray, former Wyomissing Borough Council Member.
"We developed the Wyo Borough site with a suite of technologies, resources and features based on the needs and browsing habits of its visitors. Equally important, was also delivering an anytime-anywhere interface for maintenance and updates that was both efficient and highly user-friendly for the borough staff. Our comprehensive approach to the project resulted in great flexibility to satisfy current demands, but can also scale in size and scope to meet future needs without requiring a complete redesign." said Janelle Paisley, DesignRev's Managing Partner and Creative Director.
"As a borough resident myself, I was thrilled to design a new site that showcases all of the wonderful things about Wyomissing that enticed my family to move to the area and put down roots."
DesignRev collaborated with borough administrative team members and trained each department head on how to update the site from their office computers or 24/7 using their mobile devices.
"The Borough has been very pleased with the new website. Working with Janelle Paisley and the other employees at Design Revolution was a pleasure. They have been great with follow-up questions and additional guidance as well." said Marti Hozey, Borough Manager/Secretary.
Wyomissing, the most populous borough in southeastern Pennsylvania's Berks County, has more than 10,000 residents (2010 census). It's the birthplace of the outlet mall (VF Outlet Center) and is home to the headquarters of Penn National Gaming, the country's second-largest gaming company.
Wyomissing is also the childhood home of country-pop music singer-writer Taylor Swift, as well as playwright (The Little Dog Laughed) and screenwriter (To Wong Foo, Thanks for Everything! Julie Newmar) Douglas Carter Beane.
About Design Revolution Studio, LLC
Design Revolution Studios, LLC is Reading's leading women-owned, full-service strategic marketing firm and creative agency centrally located between New York City and Philadelphia. Design Revolution's success is derived from its team's innovative and unconventional views on modern marketing—the perfect blend of marketing, graphic design, technology, science, and economics. Both qualitative and quantitative, their strategies reduce risk and maximize the performance of campaigns to achieve bottom-line results in both international and domestic markets. Design Revolution's uniquely talented team manages multi-media campaigns and engages audiences via marketing strategy, brand management, graphic and interactive design, PR, social media, and HD/4K video production.
Ready to explore the tremendous opportunities that exist for organizations using technology to deliver their missions in an effective and scalable way? Contact the DesignRev office to schedule an initial consultation or to request further information.
For Immediate Release
High-Res Images & Expert Interviews Available
Media Contact:
Shane Paisley – Partner, Strategic Services Director
Design Revolution Studios, LLC.
Shane(at)designrev(dot)com | 877.875.5586