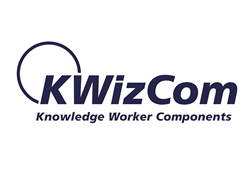 Reaching over 12,000 fans on Facebook is one of the company's many achievements and definitely a proud moment for us
Toronto, ON (PRWEB) May 26, 2016
KWizCom, a world renowned developer of SharePoint Forms & Mobile Solution, as well as multiple other revolutionary add-ons and apps for Office 365 designed to expand Microsoft SharePoint, announced they have reached over 12,000 followers on the social media platform Facebook. After creating a Facebook account back in 2012, KWizCom's follower base has reached an all-time high this May.
Of the company's most recent Facebook success, KWizCom's Product Group Manager Nimrod Geva said, "Reaching over 12,000 fans on Facebook is one of the company's many achievements and definitely a proud moment for us. I would like to take this opportunity to thank all of KWizCom's supporters and follower for the trust they have placed in us."
To learn about the SharePoint add-ons and apps for Office 365 that KWizCom Corporation is offering, please visit the company's website at www(dot)kwizcom(dot)com.
Follow KWizCom on Twitter: @KWizCom
Become a fan of KWizCom on Facebook: www(dot)facebook(dot)com/KWizCom
Join KWizCom on LinkedIn: www(dot)linkedin(dot)com/company/kwizcom
Contact a KWizCom Account Specialist at +1-905-370-0333/+1-855-KWIZCOM or info(at)kwizcom(dot)com
About KWizCom Corporation
Since 2005, KWizCom has provided innovative solutions and services to make SharePoint even better for over 7,000 companies worldwide. KWizCom is a leading provider of SharePoint Forms, Mobile, Wiki solutions, and over 70 other add-ons for SharePoint on-premises and apps for Office 365. KWizCom software is available to federal, state and local government agencies through GSA schedule. KWizCom is a Gold Certified Microsoft Partner is headquartered in Toronto.