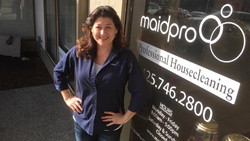 "Follow the franchise model. You're buying a proven system, so use it." - Maxine Kenefsky
(PRWEB) May 31, 2016
CNBC has released its list of America's 50 Star Franchisees for 2016 – among the list is MaidPro's Maxine Kenefsky of Washington State. Out of 28,500 franchisees representing a total 364 franchise brands only one franchisee was selected from each state. The selection process consisted of both a franchise and franchisee evaluation that included, but was not limited to, proof of concept, clean reporting and successful financial performance, return on investment, franchisee satisfaction and high regard of management by the franchisee community. MaidPro and Kenefsky are joined by other esteemed franchises including Zaxby's, Sotheby's International Realty, and Coldwell Banker. Kenefsky currently has 70 employees working at her four locations (three in Seattle, WA, and one in Beaverton, OR) and services approximately 1,100 clients. CNBC now joins Forbes and Franchise Business Review on the list of those crediting MaidPro for exceeding industry standards.
To get a free estimate for housecleaning services from MaidPro please visit http://www.maidpro.com.
ABOUT MAIDPRO
MaidPro is a Boston-based franchisor of house cleaning services with over 200 locations in 38 states, the District of Columbia and Canada. The company, which began franchising in 1997, takes pride in its strong owner community, cutting-edge technology and creative marketing. It has been honored with the Franchise Business Review's Four-Star Rating and Franchise 50 awards every year from 2006 to 2016 for owner satisfaction. MaidPro was named one of the Top 50 Franchises for Minorities by USA Today's Franchising Today. MaidPro is also a proud member of the International Franchise Association and the New England Franchise Association. The company can be found online at http://www.maidprofranchise.com.