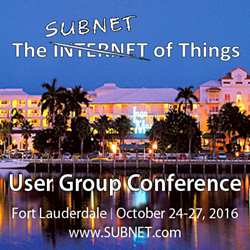 This year's event is going to be our biggest and best one yet."
Calgary, Alberta (PRWEB) June 01, 2016
Calgary, Alberta, Canada - SUBNET Solutions Inc. announced that they will host their 8th Annual SUBNET User Group at the Lago Mar Resort & Club in Fort Lauderdale, Florida from October 24-27, 2016. The four-day event will showcase the latest device management technology that is making power grids more intelligent.
The Lago Mar Resort & Club is renowned as one of the best oceanfront resorts in Fort Lauderdale, and has proudly been owned and operated by the Banks family for more than 50 years. The luxury resort offers 204 rooms, plus dining, a full-service spa, meeting and events space, all on 10 acres of land and 500 feet of beautiful sandy beach – the largest private beach in Broward County.
SUBNET Solutions President, Ameen Hamdon, is looking forward to this year's conference and its exciting new location.
"This year's event is going to be our biggest and best one yet," said Hamdon. "We're thrilled to be hosting the User Group in such an exciting and accessible location for our North American and international customers and partners. We have received so much positive feedback from the past year's events, and we're looking forward to creating a valuable and successful event for everyone."
The theme of conference is "The SUBNET of Things", where SUBNET customers and partners will have a chance to gain a deeper understanding of SUBNET's software products professional training, and valuable conference presentations from SUBNET customers, partners and executives.
The event will provide an opportunity to deep-dive with your peers on how their use of SUBNET technology is helping them solve their problems and improve efficiency. The event will consist of two days of product training, and two days of conference presentations from SUBNET customers, partners and executives.
Registration for the SUBNET User Group Conference is now open. SUBNET is also now accepting abstracts for customers and representatives to share their innovative ideas, insights and success stories. The deadline for abstract submission is June 30th, 2016. The deadline to register with early bird pricing is July 31st, 2016.
Learn more information about the event and the venue at http://www.subnet.com/usergroup2016. If you have any questions, please contact events@subnet.com.
About SUBNET Solutions Inc.
SUBNET Solutions Inc. is a global software solutions provider for electrical utilities. SUBNET focuses on Making Power Grids More Intelligent®. Founded in 1992, SUBNET is an industry leader providing intelligent solutions that securely connect real-time field information with business systems to enable Smart Grid solutions. Over 200 utilities worldwide rely on SUBNET software to safely manage and monitor tens-of-thousands of substations. For more information visit http://www.SUBNET.com.
MEDIA CONTACT
Dalyn Sjogren
Marketing and Events Manager
SUBNET Solutions Inc.
dalyn.sjogren(at)SUBNET(dot)com
403.270.8885