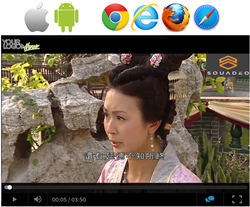 One single protocol, one single DRM, one single player implementation across all platforms
Paris (PRWEB) June 01, 2016
Squadeo, the provider of cross-platform secure video player solutions, today announced that Philippines's number one cable TV company SKYCABLE is deploying Squadeo's video player named QuickPlayer for Web in the Filipino market for its online streaming service, Sky On-Demand. QuickPlayer for Web has been integrated with the Verimatrix ViewRight® Web security client for Windows and for Mac OS X, which provides complete HTTP Live Streaming (HLS) functional support for Windows-based and Mac OS X computer systems and enables an enhanced security infrastructure that is fully compliant with the rigorous requirements for licensing premium content.
Google's and Microsoft's decisions to change their web browser plugin technologies and restricting DRM access to only their own DRM technologies have brought disturbances to the OTT TV market. Squadeo started more than a year ago to design a solution that allows video service providers to reuse the same streaming protocol, the same HLS-based digital rights management (DRM) solution, and the same web site as before.
The integrated QuickPlayer for Web and ViewRight Web solution implements the HLS streaming protocol and bitrate adaptation logic, enabling its use on live and on-demand clear (unencrypted) HLS streams from any source. The Verimatrix ViewRight Web client family is a robust package of portable security modules that adds content protection, authentication and fine grain entitlement management for a variety of device categories, including PC/Macs, mobile handsets, tablets, set-top boxes and connected TVs.
SKYCABLE's Vice President of Product Development Joevel Rivera explains:
"We were concerned about Google's plan to restrict plugin support for video players. As we have already been using Squadeo players for our IOS and Android apps, we were pleased when Squadeo presented to us their Web-player solution. The design of the solution allows a higher level of customization of the player User Interface than before, which results in greater end-user flexibility and satisfaction".
"Customers like SKYCABLE are able to leverage their existing Verimatrix security investment with the integrated QuickPlayer for Web solution. Our unparalleled partner ecosystem helps network operators with their transition to a more IP-based infrastructure for both pragmatic and innovative security solutions," said Petr Peterka, CTO at Verimatrix. "We are thrilled to be able to continue to support SKYCABLE as they enhance their video offerings and grow their subscriber base."
"Video Service Providers are willing to be more independent to unilateral decisions taken by the Internet giants. We are delighted to accompany SKYCABLE in this exciting journey where one single protocol, one single DRM and one single player implementation can be deployed across all OTT devices of SKYCABLE consumers" commented Benoit Brieussel, director of Sales & Marketing at Squadeo.
About SKYCABLE
SKY Cable Corporation is a leading cable and broadband technology provider in the Philippines offering an array of innovative and pioneering products with rich content delivered on various platforms. Its products are a showcase of top-of-mind choices among Filipinos: SKYcable, known for its top-notch programming; SKYbroadband, which offers reliable, unlimited broadband connectivity and online entertainment options; SKYdirect, a direct-to-home television technology that brings superior cable entertainment nationwide, SKY on Demand, an on-demand video streaming and entertainment service allowing content viewing on any screen; and SKYmobi, a mobile pocket wifi service that offers access to SKYcable's slew of shows even outside the home.
About Verimatrix
Verimatrix specializes in securing and enhancing revenue for multi-network, multi-screen digital TV services around the globe and is recognized as the global number one in revenue security for connected video devices. The award-winning and independently audited Verimatrix Video Content Authority System (VCAS™) family of solutions enables next-generation video service providers to cost-effectively extend their networks and enable new business models. The company has continued its technical innovation by offering the world's only globally interconnected revenue security platform, Verspective™ Intelligence Center, for automated system optimization and data collection/analytics.
Its unmatched partner ecosystem and close relationship with major studios, broadcasters and standards organizations enables Verimatrix to provide a unique advantage to video business issues beyond content security as operators introduce new services to leverage the proliferation of connected devices. Verimatrix is an ISO 9001:2008 certified company. For more information, please visit http://www.verimatrix.com, our Pay TV Views blog and follow us @verimatrixinc, Facebook and LinkedIn to join the conversation.
About Squadeo
Squadeo is a leading global provider of secure cross-platform video software solutions for the broadcast and TV-industry. Squadeo provides secure premium video players on open platforms pre-integrated with major DRMs with a focus on enhanced visual experience in compliance with Studio requirements. Squadeo is made up of a team of professionals originating from Philips and NXP with extensive experience in its domains and a track record of creating valuable products and IP. Squadeo is a privately held company with headquarters in Paris, France.
Email: sales.office(at)squadeo(dot)tv
Web: http://www.squadeo.tv