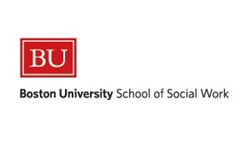 Boston, Massachusetts (PRWEB) June 03, 2016
Boston University School of Social Work (BUSSW) has added the Macro Social Work Practice major to their Master of Social Work (MSW) online program.The critical social issues at the forefront in this election year demonstrate the continuing need for skilled social workers trained to facilitate change at the larger community and organization systems level. These skills are vital to the creation of equitable public policy that promotes social justice.
The online MSW offered through BU trains students to work with communities and organizations. The macro major encompasses a broad range of skill development, including nonprofit administration, community development, financial management, advocacy, and more. Efforts made through macro social work strategies enable dialogue, action, and steps to effect large-scale change. The convenience and flexibility of the online format allows students continue to live and work in their communities while they study.
About the Boston University School of Social Work
With roots dating back to 1918, Boston University School of Social Work's (BUSSW) mission is to develop dynamic and diverse social work practitioners, leaders, and scholars through rigorous teaching, innovative research, and transformative community engagement. BUSSW offers graduate programs in clinical and macro social work practice.
Ranked 12th in the nation out of 216 graduate schools of social work by the 2017 edition of US News and World Report, BUSSW is dedicated to educating outstanding professional social workers in an intellectually rigorous environment.
For more information, please call 877-308-9945 or visit onlinemsw.bu.edu.